Thursday 16th June 2022
2-5.30pm
University of Sussex
Further details will be confirmed on registration

An afternoon of discussion in response to 'Marion Milner: Modernism, Politics, Psychoanalysis', a special issue of Critical Quarterly
In her first book, A Life of One's Own (1934), Marion Milner narrated her quest to 'find out what kinds of experience made me happy.' In a book that W. H. Auden found 'as exciting as a detective story', Milner shared her personal experiment in tracking down day-to-day moments of happiness. Although her discoveries were, she commented, 'probably peculiar' to her own 'temperament and circumstances,' Milner published the book in an attempt to share 'a method for discovering one's true likes and dislikes, for finding and setting up a standard of values that is truly one's own and not a borrowed mass-produced ideal.' Like many of her modernist contemporaries, Milner experimented (with her writing, her drawing and her self) as part of an attempt to break with false 'standards', with the oppressive traditions of the past and 'mass-produced' modernity.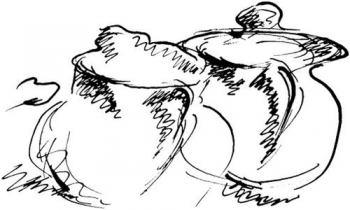 Although Milner's early writings can be read in dialogue with the various modernisms of the early twentieth century, Milner is not, as Eve Dickson and Akshi Singh have recently observed, 'easily situated': 'She was someone who was always "between" things, genres and media.' Born in 1900, Milner's life and work spanned the length of the twentieth century (she died in 1998). Her work as a psychoanalyst has been influential on figures including D. W. Winnicott, Christopher Bollas, and Masud Khan, as well as in the development of art therapy, while her writing, drawing, collage and psychoanalytic practice are all deeply entwined with the historical events through which she lived, making an encounter with her work instructive for us today.
This summer, on Thursday 16th June 2022, we come together at the University of Sussex to celebrate the publication of the recent special issue of Critical Quarterly 'Marion Milner: Modernism, Politics, Psychoanalysis', edited by Eve Dickson and Akshi Singh. Alongside discussion of the articles published in the special issue, participants will also be invited to consider Milner's significance in relationship to psychoanalysis, modernism, life writing, art and education. Taking our inspiration from Milner's own scepticism about the strictures of traditional forms of education, and from her own experimental practice with forms of scrapbooking and collage, we will eschew the conventions of the formal academic paper in favour of discussions rooted in quotations and images chosen by speakers.
Speakers include:
• Eve Dickson
• Aleana Egan
• Emilia Halton-Hernandez
• Rye Dag Holmboe
• Charlie Pullen
• Vivian Sky Rehberg
• David Russell
• Akshi Singh
• Helen Tyson
• Julie Walsh
• Hope Wolf
Book here: https://www.eventbrite.co.uk/e/marion-milner-modernism-politics-psychoanalysis-tickets-331849840807
If you have any questions about this event, please contact Helen Tyson, H.Tyson@sussex.ac.uk
Co-organised by the Centre for Modernist Studies and the Centre for Life History and Life Writing Research.
Image above: Marion Milner. Source: On Not Being Able to Paint, p.15, Copyright 1950. Routledge, reproduced by permission of Taylor & Francis Books UK.