Professor Susan McCabe
Monday 29th November, 5pm, Zoom.

Hosted by the Centre for Modernist Studies at the University of Sussex, with the Centre for Life History and Life Writing Research and the Centre for the Study of Sexual Dissidence.
Professor Susan McCabe will be speaking about her recently published book H.D. & Bryher: an Untold Love Story of Modernism (Oxford University Press, 2021). She will be discussing the process of writing the book, the way in which it alters our conception of modernism, and how, in new gender vocabulary, we find echoes of the lives and exploratory work of H.D. and Bryher.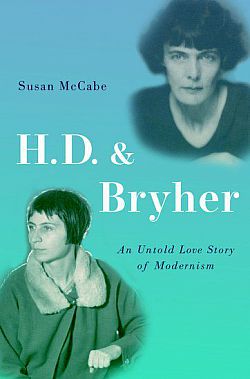 To book tickets please sign up to the Eventbrite link, and a Zoom link will be sent to you near to the time of the event: https://www.eventbrite.co.uk/e/hd-and-bryher-an-untold-love-story-of-modernism-tickets-208037484717
About the book:
H.D. & Bryher: An Untold Love Story of Modernism takes on the daring task of examining the connection between two queer women, one a poet and the other a historical novelist, living from the late 19th century through the 20th century. When they met in 1918, H.D. was a modernist poet, married to a shell-shocked adulterous poet, and pregnant by another man. She fell in love with Bryher, who was entrapped by her wealthy secretive family. Their bond grew over Greek poetry, geography, ancient history and literature, the telegraph, and telepathy. They felt their love-and their true identities existed invisibly- a giddy, and disturbing element to their relationship; they lived off and on in distant geographies, though in near continual contact. This book exposes why literary history has occluded this love story of the world wars and poetic modernism.


About Susan McCabe:
Susan McCabe is a professor of English and Creative Writing at USC, and has published Elizabeth Bishop: Her Poetics of Loss (1994) and Cinematic Modernism (2005) and received as well the Agha Shahid Prize for a book of poems, Descartes' Nightmare (2008).