Date: 16 December 2021
Time: 1:00 pm - 1:45 pm
Online (Zoom)
With curator Dr Alexandra Loske
Free event, hosted and organised by the Royal Pavilion & Museums Trust (RPMT)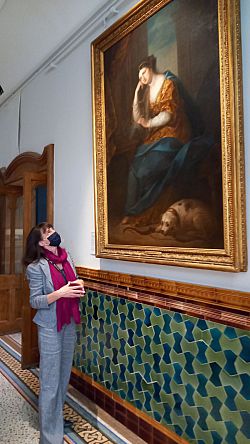 The Centre for Life History and Life Writing Research is delighted to support this free online talk by Sussex alumna and CLHLWR associate Dr Alexandra Loske.
Swiss-born Angelica Kauffman was a true superstar of the eighteenth-century European art world. She was a trailblazing woman who found international fame as an artist in a male-dominated field. She was one of only two female founding members of the Royal Academy, London, in 1768 and spent a total of 15 years in England, before returning to continental Europe.
Brighton Museum & Art Gallery holds three important paintings by Kauffman, all of them depicting women in reflective and pensive mood. All three paintings are currently on display in the Museum, including an early portrayal of Penelope (from Homer's Odyssee).
Join RPMT curator Dr Alexandra Loske as she takes a closer look at this pioneering artist through these works in Brighton Museum's collection. There is also a chance to ask questions after the talk.
Approx. 30-45 mins incl Q&A
Free, all welcome, but booking essential. Book your tickets here: https://www.eventbrite.co.uk/e/217836433637
More information on the Royal Pavilion & Museums Trust here: https://brightonmuseums.org.uk/