24 April 2018
University of Sussex
Arts A 108
4pm
Carry van Biema was born in Hannover, Germany, into a prosperous, intellectual Jewish family.
She decided at a young age to become an artist. Her family had Dutch origins, and for most of her life she lived, worked and exhibited peripatetically in both countries. She taught art and art history, mingled with German avant-garde groups, while also displaying a sincere duty to old masters and classic texts, such as Johann Wolfgang von Goethe's writings on colour. In 1930 she published Farben und Formen als lebendige Kräfte (literally: Colours and forms as living forces), an intensely personal and intellectual work on colour in art that aims to combine scholarship with practical advice. The book is now little known and extremely rare.
Dr Alexandra Loske (Royal Pavilion and Brighton Museums/University of Sussex) is a German-born art historian whose main research interests are colour history and colour literature, in particular the comparatively rare output of colour literature by women in the nineteenth and early twentieth centuries.
In this seminar Loske will talk about how, on first hearing about Carry van Biema, she became interested in finding out more about van Biema's life story and only published work. It soon became clear that researching van Biema would go far beyond analysing her work and placing her in the canon of colour literature. Reading and writing about this obscure colour writer has been emotionally challenging for Loske, since van Biema's life story is also the story of Nazi Germany, the Holocaust, and a life cut short by immeasurably cruelty. Loske will discuss how being German affected her both positively and negatively in the process of researching van Biema, and how it made her reflect on research methodology, the wider context of art history within social and political history, and how her own life story and life writing is affected by projects such as this.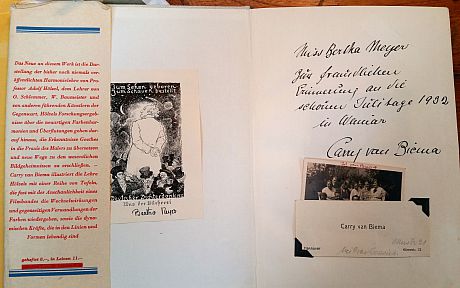 This event is co-organised with the Department of Art History and the Centre for German Jewish Studies at Sussex.