Researching Uniqueness: How Life History Research Entails Singular Questions and Special Outcomes
The 6th annual Brighton-Sussex postgraduate conference
6 June 2014
10 a.m. - 4 p.m.
The Keep, Brighton
This conference was co-organised by the Centre for Life History and Life Writing Research (University of Sussex) and the Centre for Memory, Narrative, Research (University of Brighton).
This event was free.
Keynote speakers:
Dr Simon Thompson: "Everyone knows but do they understand?" Distinctive encounter and challenging confrontations with the life histories of UK education (click here for the abstract)

How can narrative inquiry and personal narratives be used to explore contemporary education? This presentation shows how through two research projects which demonstrate the rich variety of methods possible. The first involves biographies and interviews with history teachers; the second, Mass Observation diaries about people's experiences of education. In both forms of life history data, I argue that we can perceive fascinating challenges to dominant discourses on the curriculum, schools, teachers and pupils which reveal the politics of education in new light.
Dr Simon Thompson is a Senior Lecturer in Education at the University of Sussex where he directs the Initial Teacher Education programme. A specialist in history education, he has worked extensively with schools and professional development of teachers, receiving a Teaching Excellence Award in 2006.
Dr Philippa Lyon: Drawing, Life, Story (click here for the abstract)

Can we use drawing in our 'research', and if so, how? To what extent do we understand it in relation to the uniqueness of the individual creator as opposed to the historical, social and cultural contexts in which the drawing might be placed and understood? Using examples that include work by professional artists, this session will offer initial and exploratory thoughts on whether drawing can be viewed as a 'unique' resource or a tool for life history.
Dr Philippa Lyon is a Research Fellow in the Faculty of Arts, University of Brighton. She researches drawing as an educational tool and a professional practice, working particularly across the disciplines of craft and medicine.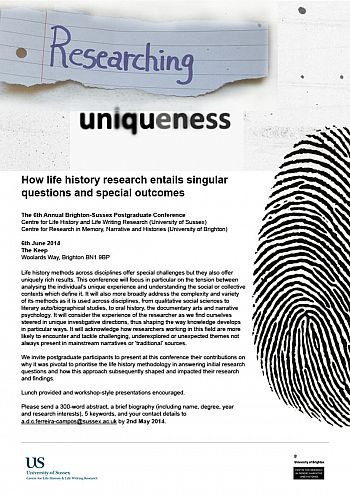 Across a wide range of disciplines, innovative research questions are very often preferentially answered via the life history approach.
Due to the intrinsic richness and complexity of its methodologies and sources, life history research frequently provides original insights and steers unique investigative directions, thus shaping the way knowledge develops in very particular ways.
Researchers working in this field are more likely to encounter and tackle challenging, underexplored or unexpected themes not always present in mainstream narratives or 'traditional' sources.
We invited postgraduate or early career researchers to present at this conference their contributions on why it was pivotal to prioritise the life history methodology in answering initial research questions and how this approach subsequently shaped and impacted their research and findings.
This conference hosted a fantastic interdisciplinary group employing life history research. We had presentations from historians, educators, sociologists, cultural historians and more - including a librettist, cartoonist and a stoolball player.
This conference featured fast and concise presentations in the PECHA KUCHA style!
Light lunch was provided.
Conference Programme
10:00 Registration, tea and coffee, and set up
10:25 Welcome from organisers
10:30-12.00: Session One
Nicola Streeten: 'Why comics work for gathering and telling life stories'
Marika Djolai: 'Community cooperation in post-conflict Bosnia and Herzegovina: coping strategies and violence'
Anita Broad: "Let's Play Stoolball!"
David Selway: 'Life History, Collective Memory & the Tonypandy Riots'
Dr Alexandra Loske: 'The Obscurity of Women – The challenges of researching 18th and 19th century female artists and writers'
Angela Campos: 'Discovering the lived experience of the Portuguese colonial war (1961-1974): what the veterans' voices reveal to the oral historian'
12.00-1.00: Lunch
1.00-1.45: Dr Simon Thompson (keynote speaker):
"Everyone knows but do they understand?" Distinctive encounters and challenging confrontations with the life histories of UK education.
1.45-3.00: Session Two
Mark Irwin: 'Teaching the way we learnt: narratives of informal musical learning')
Jessica Hammett: 'Individual Remembering and Group Storytelling at a Reunion of a London World War Two Fire Brigade'
Eleanor Knight: 'The Trial of Jean Rhys: Uncovering the unpleasantly authentic voice of a literary icon'
Gillian Love: 'Abortion and social class: A narrative study'
3.00-3.15: Break
3.15-4.00: Dr Philippa Lyon (keynote speaker): 'Drawing, life, story'
4.00: Conference closes
Here are some photographic impressions of the day: