This free workshop explored the relationship of public and personal in different life story projects which prioritize listening, sound and voice. Three presentations discussed questions of politics, representation and aesthetics which arise in using life stories in specific creative works – an experimental audio work using stories by women involved in the Women's Liberation Movement; a reflexive installation of voices from women involved in the construction of an archive; a sound/image piece about the artist's parents' crossword puzzle to combat memory loss.
The aim of the event was to generate discussion around the work by allowing hour-long slots for each presentation. Students were especially welcome to attend.
Impressions from the workshop Public and Personal Archives: Creative Negotiations, 4 April 2014
Presentations:
Nicky Bird, Glasgow School of Art: Voyaging Voices: Reflections on a Glasgow Women's Library Residency
Listen to a recording of Nicky Bird's talk here:

Nicky Bird: Voyaging Voices: Reflections on a Glasgow Women's Library Residency 4 April 2014
Melanie Friend: Standing By: The Ethics of Domestic Ethnography
Ed Hughes, Lizzie Thynne and Margaretta Jolly, Sussex University: Voices in Movement: Sisterhood and After
The event included a display of video, photography, and sound work by Suze Adams, Jacqueline Butler, Rosy Martin, Sally Waterman and Lizzie Thynne all artists associated with the Family Ties Network.
DOWNLOAD THE FULL PROGRAMME HERE.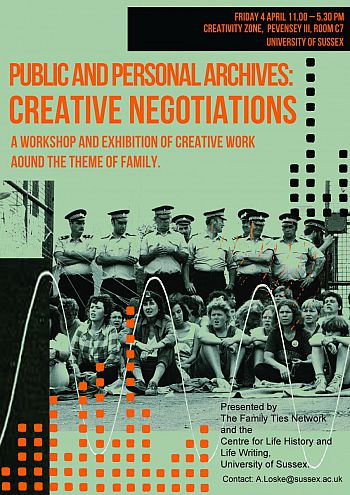 Presented by the Family Ties Network and the Centre for Life History and Life Writing, University of Sussex. Supported by the Leverhulme Trust.