For more information and general enquiries about the Centre, please contact:
Room 130, Silverstone Building
University of Sussex

Falmer, Brighton
BN1 9RF
EM.Jolly@sussex.ac.uk
T +44 (0)1273 873585
I am a cultural critic with a particular interest in life writing and life history. My work has focused on auto/biography and oral history, feminist theory and education. I see the life story as a node which focuses questions of agency, desire, art and history that are crucial to cultural studies, and especially intriguing in today's individualisms.
Dear Laughing Motorbyke: Letters from Women Welders of the Second World War (Scarlet Press, 1997), presents letters from the Mass-Observation Archive to explore war stories as well as arguments about women's roles. I designed my Encyclopedia of Life Writing (Routledge, 2001) to reflect the field's expansiveness, ranging from Scandinavian life-story competitions to American confessional television, African oral history to Arabic Medieval biographical dictionaries. I explored fictions of war and masculinity in my co-edited Critical Perspectives on Pat Barker (University of South Carolina Press, 2005). My book In Love and Struggle: Letters in Contemporary Feminism (Columbia University Press, 2008) won the Feminist and Women's Studies Association UK Book Prize in 2009. My most recent book is Sisterhood and After: An Oral History of the UK Women's Liberation Movement, 1968-present
I am a core member of the International Association for Auto/Biography and on the editorial boards of Auto/biography; Life Writing, and Life Writing Annual.
I was Principal Investigator to Sisterhood and After: The Women's Liberation Oral History Project, funded by the Leverhulme Trust and partnered with The British Library, from 2010-2013.
Hope Wolf is interested in autobiography and biography as forms of critical and creative practice, and is particularly keen on projects that explore the complexities of the relationship between life and art.
She is currently researching the joint-biography of the surrealist and psychoanalytic couple Grace Pailthorpe and Reuben Mednikoff, and is curating with Rosie Cooper an exhibition of their work that exhibited at the De La Warr Pavilion in October 2018. As well as being fascinating visual artists, they are also extraordinary life writers, and Hope is using their autobiographical excavations of their early lives as inspiration for experimenting with biographical form.
Hope's second project is on the theme of Sussex Modernism. It too explores the relationship between life and art, and proceeds from an exhibition she curated at Two Temple Place, London in 2017. Hope is interested in the relationships between modernists and their neighbours (so-called 'local people'), and particularly in how the two groups constructed and mythologised one another. This extends to an investigation of how art is practiced, commemorated, appreciated and criticised in the region today.
Hope has published books and articles on life writing subjects. These include a PhD on anecdotes, an anthology of war writing for Random House (A Broken World, 2014), an edited collection on Life Writing and Space (Routledge 2016), a chapter on David Jones's attempts to calibrate experience in his autobiographical poetry (in The First World War: Literature, Culture and Modernity, OUP, 2017), and an article on Tweets written by a teenager during the bombing of Gaza in 2014 (Textual Practice, 2015).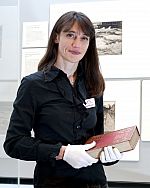 Dr Alexandra Loske is an art historian, oral historian, editor and curator with a particular interest in late eighteenth and early nineteenth century European art and architecture. She has been working at the University of Sussex since 1999, where she now teaches in the department of Art History and in 2014 fiinished an AHRC-funded PhD. Her research was based at the Royal Pavilion, Brighton, where she has been investigating the use of colour in early nineteenth century interiors. She now holds a part-time curator post there.
Loske is particularly interested in the lives and work of women writers on colour and colour theory, such Mary Gartside, Carry van Biema and Mary Philadelphia Merrifield. She is currently working on an oral history project of the Art History Department of the University of Sussex.
Alexandra is also the Communications Manager of the CLHLWR.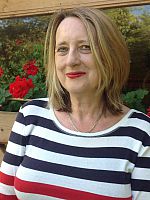 New autobiographical writing - Clothes Pegs: A Woman's Life in 30 Outfits - published at : http://www.clothespegs.net/

https://twitter.com/lynjthomas_lyn
I joined Sussex as part-time Professor of Cultural Studies in 2013, after 23 years teaching French and Media and Cultural Studies at London Metropolitan University. My interest in life writing and life histories is longstanding and underpins my two decades of work on French writer Annie Ernaux.
In 2016 I published my own memoir – Clothes Pegs: A Woman's Life in 30 Outfits at: http://www.clothespegs.net/. Other creative pieces have been published in the Frogmore Press collection – True Tales from the Old Hill, and in the CLHLWR/ Reframe collaboration New Pathways: A Psychogeography of Lewes (2015) http://reframe.sussex.ac.uk/newpathways/essays/nostalgic-drifting/
Other academic publications have included work on the audiences of British radio soap opera The Archers, lifestyle television and 'religious reality' television, and on 'suspect' communities in Britain. I was a member of the Feminist Review Editorial Collective from 1998-2011.