Panellists announced for Making Space: Decolonial Interventions in Contemporary Art
Posted on behalf of: School of Media, Arts and Humanities
Last updated: Monday, 9 May 2022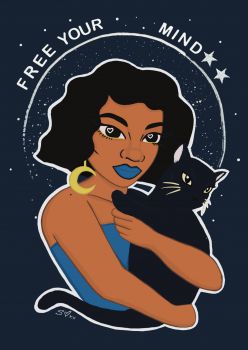 On Monday 16 May, Susuana Amoah, the University's Stuart Hall Fellow 2022, will lead a panel exploring de-colonial approaches in the context of contemporary artistic practice as part of the Sussex Festival of Ideas in the Brighton Festival.
Bringing together the University of Sussex in partnership with the Royal Pavilion and Museums Trust and the Stuart Hall Foundation, the panel discussion will cover a broad span of work, from digital projects calling out racism in public art galleries to the limits and possibilities of socially engaged curating.
Showcasing an important area of contemporary cultural practice, the event will examine how a critical and creative interrogation of the past and present might lead towards more equitable futures.
The panel will comprise Helen Starr, Jacob V Joyce and Kaia Charles.
Helen Starr is a Trinidadian world-building curator. Of Afro-Carib ancestry, Helen's indigenous and black lived experience is entangled with both racism and genocidal erasure. Helen is interested in the formulation of how European people came to see themselves as the gatekeepers to the Personhood of Others. How Earth became a colony of the West. Helen has worked with public institutions such as Ars Electronica Festival in Austria. Wysing Art Centre, Cambridge, FACT, Liverpool, QUAD in Derby. Helen also sits on the board of QUAD, Derby and was part of the winning team for the Wolfson Economic Prize 2021. Central to Starr's practice are the writings of the Jamaican philosopher Sylvia Wynter.
Jacob V Joyce's work ranges from afro-futurist world-building workshops to mural painting, comic books and performance art. They are currently a doctoral candidate researching the history of black arts education at Westminster University. Joyce has self-published several zines and illustrated international human rights campaigns for Out Proud African LGBTI, Amnesty International, Global Justice Now and had their comics in national newspapers. TFL Arts Grant awardee and former artist in residence at Gasworks, Serpentine, Nottingham Cotemporary and Tate Galleries Education department, Joyce is a non-binary artist amplifying historical and nourishing new queer and decolonial narratives.
Kaia Charles is a cultural projects commissioner and curator whose work is rooted in contemporary art practice. Charles has commissioned projects that explore urbanism, digital and cross-cultural visual culture.  Before joining Greenwich Peninsula's cultural team in 2014, she worked with the Victoria and Albert Museum's Contemporary Programmes section, curating a variety of arts commissions. She also co-chaired the V&A's African Caribbean steering group which worked towards incorporate Afro-Caribbean contemporary art into the V&A's collections. Charles believes art and culture should be inclusive and is crucial to adding a creative dimension to community; and works to embed pioneering cultural events, exhibitions and public art in creative neighbourhoods.
Making Space: Decolonial Interventions in Contemporary Art takes place on Monday 16 May at 7 pm in The Music Room, Royal Pavilion, Brighton. Tickets are £12/£10. For booking and more information please visit the Brighton Festival website