Don't miss the Sussex Festival of Ideas!
Posted on behalf of: School of Media, Arts and Humanities
Last updated: Thursday, 24 March 2022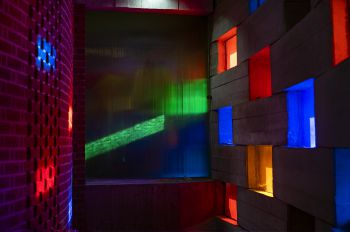 The 2022 Sussex Festival of Ideas is now only a few days away and excitement is building for this two-day celebration of the transformative power of the arts and humanities, co-created by student and staff in Media, Arts and Humanities
The Festival's 2022 edition includes a two-day programme of talks, events, workshops, conversations, screenings and performances at the Attenborough Centre for the Creative Arts on Tuesday 29 and Wednesday 30 March, exploring a wide-range of topics: from Ukraine's cultural politics, black identities and the countryside to irreverent responses to inequality and exploitation within the cultural industries, the visual cultures of Instagram to cultural mediations of climate change, media coverage of Gypsy, Roma and Traveller communities to the new visibility of menopausal life and politics, and the work of film pioneer Jill Craigie. The programme includes a screening of Lizzie Thynne's new documentary about the work of film pioneer Jill Craigie and a closing keynote presentation by Gary Younge on statues, cultural memory and empire
With the exception of Gary Younge's talk, all events are free with no booking required.
For more information about the programme please visit the Festival of Ideas website or follow us on Instagram and Twitter
Tuesday 29 March
11.00-11.15 Welcome by Professor Kate O'Riordan
11.15-12:00 Ukraine: A Media, Arts and Humanities Conversation
12.15-13.00 Images Among Us: Research Inside 'the Gram'
13.15-15.00 Hope and Fear: Cultures of Climate Change
15.15-16.00 The New Menopause
16.30-18.30 Independent Miss Craigie Film Screening and Q+A
18.30-20.00 Drinks in ACCA Bar (with music)
Wednesday 30 March
12.00-12.45 The White Pube
13.00-13.45 "We need to talk about" Gypsy, Roma and Traveller communities in the media
14.00-15.30 Black at Sussex: Activism, Curating, Archiving
16.00-17.30 Gary Younge –Not Set in Stone: Why we need more honesty and fewer statues (booking required via ACCA website)
17.30-19.00 Complimentary drinks in ACCA Bar (with music)