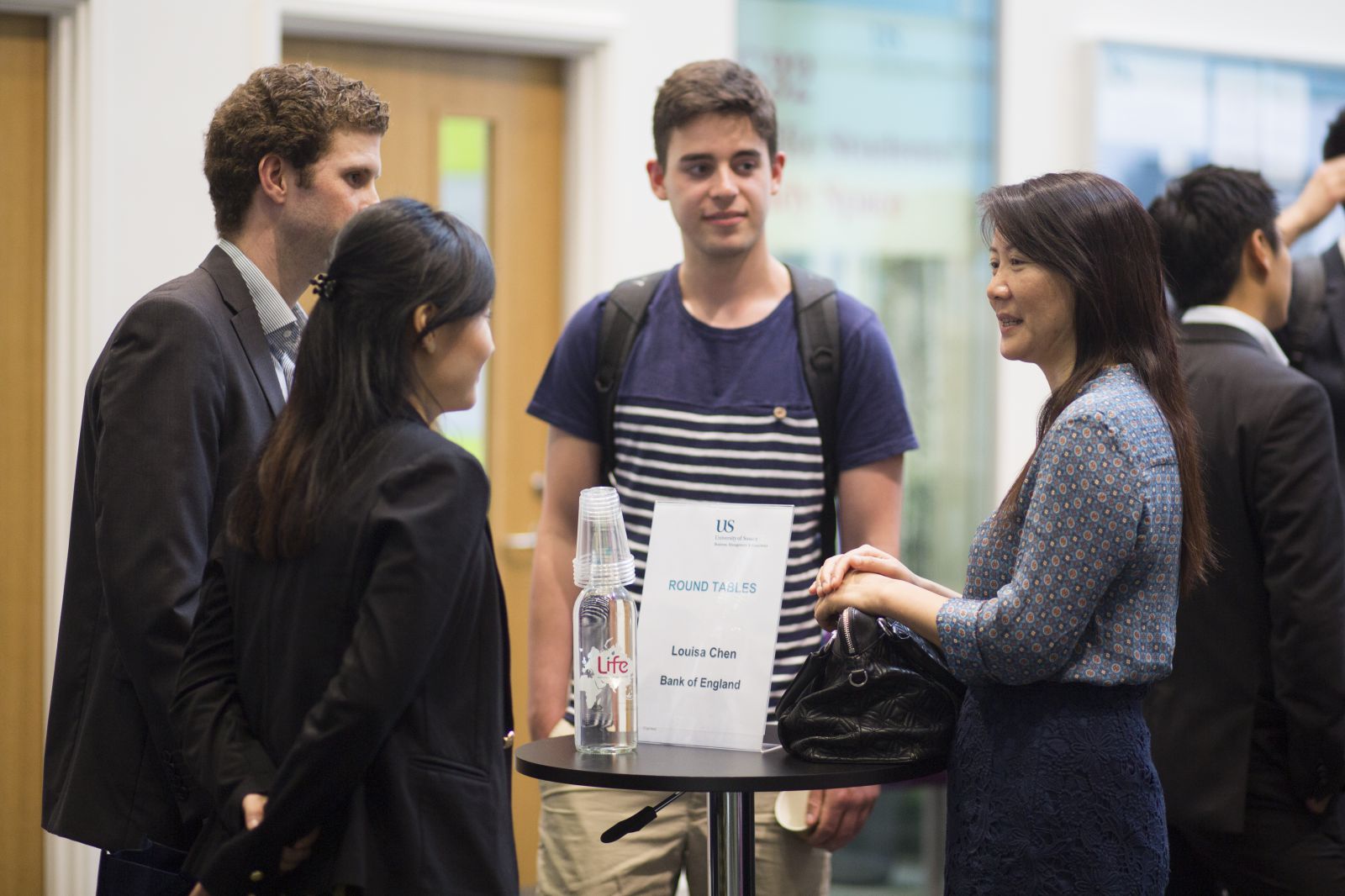 Schedule
Full schedule
Overview
Opening address
Jubilee 144
Morning paper presentation sessions:

Entrepreneurial Finance 1
Jubilee 118
Chair: David Storey
Entrepreneurial Finance 2
Jubilee 115
Chair: Ranko Jelic
Banking 1
Jubilee G22
Chair: Ephraim Clark
Corporate Governance 1
Jubilee G31
Chair: Marc Goergen
Corporate Finance 1
Jubilee G35
Chair: Dimitrios Gounopoulos
Quantitative Finance 1
Jubilee 144
Chair: Carol Alexander
Keynote speech 1:
Entrepreneurial Finance in a Changing Landscape: New Research Directions
Jubilee 144
Speaker: Mike Wright (Imperial College, London)
Afternoon paper presentation sessions:
Entrepreneurial Finance 3
Jubilee 118
Chair: Mike Wright
Entrepreneurial Finance 4
Jubilee 115
Chair: Susanne Espenlaub
Banking 2
Jubilee G22
Chair: Victor Murinde
Corporate Governance 2
Jubilee G31
Chair: Marc Goergen
Corporate Finance 2
Jubilee G35
Chair: Wolfgang Aussenegg
Quantitative Finance 2
Jubilee 144
Chair: Andreas Kaeck
Keynote speech 2:
The Barclays Bank New Firms Database: Coverage and Findings
Jubilee 144
Speakers: David Storey (University of Sussex) and Julian Frankish (Barclays Bank)
Meet the Editors: Optimising Your Journal Publication Strategy

Carol Alexander (Journal of Banking and Finance)
Marc Goergen (British Journal of Management)
Mike Wright (Journal of Management Studies)
---
Keynote speakers
Entrepreneurial Finance in a Changing Landscape: New Research Directions
Professor Mike Wright (Imperial College, London)

Professor Mike Wright joined Imperial College Business School as Professor of Entrepreneurship in September 2011. He is Director of the Centre for Management Buy-out Research, the first centre to be established devoted to the study of private equity and buyouts, which was founded in March 1986 at the Nottingham University Business School. He was elected a Fellow of the British Academy in 2016 and a Fellow of the Strategic Management Society. He has held visiting professor positions at the University of Ghent and ETH Zurich.
He has written over 50 books and more than 400 papers in leading academic and professional journals on management buy-outs, private equity, venture capital, habitual entrepreneurs, academic entrepreneurs, and related topics. His papers have appeared in the Academy of Management Journal, Academy of Management Review, Economic Journal, Journal of Business Venturing, Journal of Banking and Finance, Journal of Corporate Finance, Journal of International Business Studies, Research Policy, Review of Economics and Statistics, Strategic Entrepreneurship Journal and Strategic Management Journal.
He served two terms as an editor of Entrepreneurship Theory and Practice (1994-99), was a joint editor of the Journal of Management Studies until 2009, recently completed his editorial term at the Strategic Entrepreneurship Journal and is currently an editor of Academy of Management Perspectives. He is a member of the BVCA Research Advisory Committee. He holds honorary doctorates from the Universities of Ghent and Derby and was recently ranked #1 worldwide for publications in academic entrepreneurship.
His latest books include The Routledge Companion to Management Buyouts (2018); Accelerators (2018); How to get published in the top management journals (2017).
The Barclays Bank New Firms Database: Coverage and Findings
Professor David Storey (University of Sussex) and Julian Frankish (Barclays Bank)

David Storey OBE is a Professor at the Department of Business Management and Economics at the University of Sussex. He has a first class degree in Economics, a diploma in Applied Statistics and a PhD in Economics. He has two honorary doctorates and has been Visiting Professor at the Universities of Manchester, Reading and Durham and an International Fellow at Sydney University.
Landstrom and Harichi in Research Policy 2018 47(3), 650-662 report that David Storey's book Understanding the Small Business Sector is in tenth place overall in the Entrepreneurship "core works" based on Handbook citations and in eighth place based on top Entrepreneurship journal citations.
Since 2014, David Storey has published in Journal of Business Venturing, Entrepreneurship Theory and Practice, Environment and Planning A, Small Business Economics, International Small Business Journal and Regional Studies. He is, in conjunction with Indianna Minto-Coy and Jonathan Lashley of the University of the West Indies, preparing a special issue of Entrepreneurship and Regional Development on Entrepreneurship in Caribbean. This is due to appear in 2018.
In 1998, he received the International Award for Entrepreneurship and Small Business Research from the Swedish Council. He has also been awarded a Wilford White fellowship from the International Council for Small Business (ICSB) and is a Fellow of the Institute of Small Business and Entrepreneurship (ISBE).
Between 2001 and 2005 he was appointed by the UK Secretary of State for Trade and Industry as a Member of the Small Business Council which advised the government on small business policy-making.
He has also undertaken work for many overseas governments and organisations. For example, he has acted as consultant to the governments of Australia, Mexico, New Zealand, Denmark and Sweden. He collaborated with the World Bank in producing an enterprise plan for Malaysia. In 2008, he produced a handbook for OECD on SME policy evaluation, contributed to their work for the G20 and to joint work with IDRC on enterprise in the Middle-East and North Africa (MENA) region. In previous years, he has advised the Inter-American Development Bank (IADB) on micro enterprises in Trinidad and Tobago and Jamaica, and IFC on Mexico. In Europe, he co-ordinated an EU-wide review of new technology based firms for DG XIII.
In 2016 he worked with Eurofound on Start-up support for young people in the EU: From Implementation to Evaluation.

Julian Frankish is Head of Business Economics and Research for Barclays Business Banking. This role supports economic planning for the whole of Barclays UK, with a particular focus on the small business market.
Julian has collaborated with David Storey and other academics on a number of articles related to entrepreneurship, small businesses and new venture growth published in journals including:
Industrial and Corporate Change
International Journal of Entrepreneurship and Small Business
International Small Business Journal
Journal of Business Venturing
Regional Studies
Small Business Economics
Small Enterprise Research
---
Programme committee
---
Contact
Please do not hesitate to contact us if you have further questions or have any special requests regarding the conference schedule.
Dr Nikolaos Karouzakis
N.Karouzakis@sussex.ac.uk