SPRU news items
Read news from the Science Policy Research Unit at the University of Sussex.
---
The Sussex Energy Group Research Showcase: March 8 – May 3
By: Francisco Dominguez
Last updated: Thursday, 17 March 2022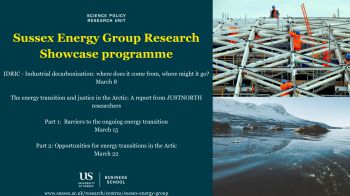 The Sussex Energy Group Research Showcase in March will focus on two exciting research projects led by the Sussex Energy Group at the University of Sussex . The series will outline IDRIC's insights on the politics of decarbonisation processes in the UK, and JUSTNORTH's work on the energy transition and its prospective impact on Artic communities.
You can see the full list of events below, and we hope to see many of you there.
Industrial decarbonisation: where does it come from, where might it go?
Marc Hudson outlines the University of Sussex IDRIC project looking at the politics of industrial decarbonisation policy in the UK.

This seminar will explain the processual approach they are taking to examine how five overlapping policy domains – climate, energy, industrial strategy, regional strategy, innovation strategy.- came to be spoken of in the same sentence. He will share some initial findings, and offer reflections on how industrial decarbonisation will be shaped by the policy histories and the ongoing mobilisation of political, economic and cultural interests at sub-national, national and international levels.
JUSTNORTH – The energy transition and justice in the Arctic: Part 1
Mar 15 13.00-14.00
JUSTNORTH is an EU Horizon 2020 project which investigates the ways in which the multitude of ethical systems that coexist in the Arctic can be used as a critical element for assessing the viability of new economic activities (including energy development) in the region.

Part I will focus on the barriers to the ongoing energy transition:

• "Stranded Assets, Path Dependencies & Carbon Lock-in: Short/Medium/Long Term Implications of Oil & Gas Development in the Russian, Norwegian and U.S. Arctic " by Anna Badyina and Roman Sidortsov (SPRU) and

• "Corporate Cultures & Geopolitical Aspirations: Exploring Socio-Political Barriers to the Energy Transition in Russia & Norway" by Darren McCauley (Erasmus University of Rotterdam).
JUSTNORTH – The energy transition and justice in the Arctic: Part 2
May 3 13.00-14.00
This is part two of a two-part seminar series based on the results of JUSTNORTH, an EU Horizon 2020 project.

Part II of the series will focus on the opportunities for the energy transition in the High North, as well as the challenges that come with these opportunities. The following three presentations will comprise the second seminar:

• "Sustainable Digitisation & Resilient Communities: Low Carbon Data Centres in Greenland, Iceland & Norway" by Chukwuka Monyei (SPRU)

• "Renewable and Ethical?: Motivation for Wind Power Resistance in Sápmi & the Norwegian Arctic" Ragnhild Freng Dale (Western Norway Research Institute)

• "Liabilities into Assets—Reviving Post-Industrial Communities Through Repurposing Industrial Infrastructures in the Swedish Arctic" by Anna Badyina (SPRU) and Timothy Scarlett (Michigan Technological University)
---
You might also be interested in: