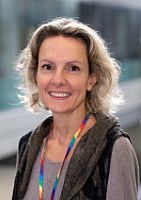 Ms
Aristea Markantoni
Biography
Aristea has studied Politics and International Relations and has a Master's degree in International Political Economy (Univresity of Warwick) and a Diploma in Early Years Education (Institute of Education, University of London). She has worked across various industries, such as banking (HSBC), pharmaceutical (Novartis Hellas), management consulting (Planet Ernst & Young) and conference organisation (Marcus Evans, C&C International) with substantial experience in conference production, both in the UK and in Greece.
Role
Research Engagement & Events Officer, University of Sussex Business School
The REEO role is to enable the School to respond to the growing demands for research engagement and event support, as part of a strategic endeavour to achieve greater engagement externally, be it locally, regionally, nationally and internationally. Aristea is responsible for coordinating all research-related engagement, including managing stakeholder relationships and public engagements, as well as overseeing the organisation of all research events, such as public lectures/seminars and the hosting of major academic conferences.
Community and Business
Member of the School Committee, Brighton Greek School of the Holy Trinity.