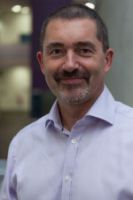 Mr
Daniel Barrow
Biography
Before joining the Business School (BMEc as was), I had a career as a Civil Servant for over 25 years. This included working in local offices in the community and about half the time spent in Whitehall working closely with Ministers.
I began working in the Jobcentre network across South Wales, and later West London, dealing with a complete mix of people with a range of needs, handling employment and other welfare queries from the public. In 1996, I moved to Whitehall to work in more policy-making and advisory roles. I held a number of interesting positions, working in several government departments, but with most of my time being in Education. These included managing school admissions policy, Secretariat to the Department of Education Board, Research Team Leader, and Team Leading on ethnic minority achievement. One of the more interesting and exciting roles was as Private Secretary to Margaret Hodge MP when she held the post of Education Minister.
Later, I was seconded to the post of Deputy Director of the Women's National Commission, one of the UK's national equality bodies. There my responsibilities included all staff and recruitment, Commission finances, Secretary to the Chair and the Board of Commissioners, and managed all internal and external communications and events management. For several years I represented the Commission, attending the annual UN Commission on the Status of Women as part of the UK Delegation to the UN in New York, and also represented the UK at Council of Europe meetings in Strasbourg.
In previous roles since joining University of Sussex, I have supported HoS and DHoS, as well as the HoD of Business and Management on a broad range of areas and projects. I oversaw the school's activities on accreditation, both for our degrees but also School-wide, including work on EQUIS accreditation where I supported our DHoS, Hans van der Heijden. Other areas I have worked on include admissions and recruitment, analysing and re-presenting applications data to support management with planning and decision-making.
I live near Preston Park with my partner of 29+ years. I enjoy good food and wine, listening to music, watching sports, travelling (as often as finances and annual leave allows), and am an enthusiastic follower of politics and current affairs (see background above).
Role
I joined the School of Business Management and Economics in April 2011, as PG Course Coordinator. After serving my time and successful promotion, I started a new role as Executive Officer in January 2014. In 2022 I was appointed Operations Manager for the Business School.
My responsibilities now include:
The General Data Protection Regulation (GDPR).
The School Feedback and Complaints Process.
Jubilee Building Space, Business School space in Essex House and SEF Relationship.
Line managemtn of Operations Officer, Angie Allen.
Oversight and line management of the Reception Team, through Laura Silk.
Oversight and line management of the Executive Support Team, through Jo Doidge.
Oversight and management of identified budget areas.
PG Admissions data and support to the Director of Recruitment and Admissions.
Oversight of the school's software contracts and licences.
School compliance with all applicable statutory and regulatory obligations, including: UKVI, Health & Safety, the Prevent Duty, data protection, Competition and Markets Authority requirements and equal opportunitiesd.