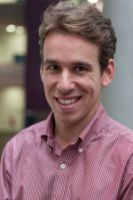 Dr
Michael Coulon
Biography
Michael Coulon is a Senior Lecturer in Finance in the department of Accounting and Finance, and currently the Subject Group Lead for Finance.
Prior to joining the University of Sussex as a Lecturer in July 2013, Michael worked as a postdoctoral research associate and associate research scholar at Princeton University (2009-2013), in the department of Operations Research and Financial Engineering (ORFE). His postdoc was supported by the National Science Foundation (NSF) through Princeton's research training group (RTG) in Stochastic Analysis and Applications. He was actively involved in the design and teaching of undergraduate and masters-level courses on finance and energy topics, the advising of undergraduate senior theses, and also a member of the Princeton Laboratory for Energy Systems Analysis (PENSA).
Michael completed a PhD (DPhil) in Mathematics in 2009 at the University of Oxford, as a member of the Mathematical and Computational Finance Group, and with a thesis focused on the modelling of electricity prices. He also holds a Master in Finance degree from Princeton University, and a BSc in Mathematics from Imperial College, London. He has also worked for short periods in the financial industry, at JPMorgan and Goldman Sachs.
Michael's research activities centre on quantitative finance and its application to energy and other commodity markets. He is an associate editor at the Journal of Commodity Markets, launched in 2015. He has developed various commodity price models and derivative pricing techniques, especially for wholesale electricity markets, as well as environmental markets such as carbon allowances and green certificates. He has designed new and innovative teaching material on such topics, regularly presents his research at leading international conferences in this field, and has published in top international journals. He has also collaborated with a variety of energy companies and other industry partners to apply mathematical techniques to practical risk management and valuation problems.
Role
Senior Lecturer in Finance