Educational Enhancement beach clean volunteer day helps protect our oceans
Posted on behalf of: Terence Bryan
Last updated: Wednesday, 13 September 2023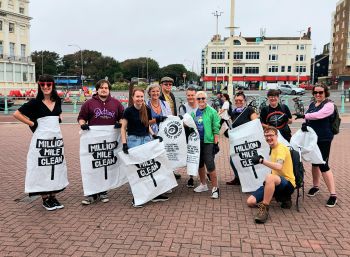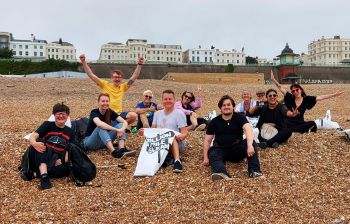 The Educational Enhancement department took part in a charity beach clean in August, with colleagues spending a volunteering day helping Surfers Against Sewage in their work against marine pollution.
Thirteen colleagues including members of the Online Distance Learning team, Academic Developers and Learning Technologists gathered at the Palace Pier at 10am and headed in the direction of Brighton Marina. Rubbish bags and gloves were provided by Surfers Against Sewage and Simona Connelly, Academic Enhancement Officer, provided litter pickers to help those with rusty joints!
After several hours of beach cleaning, the team headed for lunch at Fika Beach Café next to Brighton Sea Lanes.
The event was organised by George Robinson, Senior Learning Technologist, who said: "I've always loved our coastline and have really admired the work of the Surfers Against Sewage charity who work to protect our oceans and marine environment from pollution, a task that's more important than ever in the face of the climate emergency we face.

"It felt great to give something back and do our small part to help keep our local community beach clean and help the charity's work. Our team did a fantastic job, managing to fill six bags worth of rubbish from across the beach. It was rewarding whilst also being fun and eye-opening to see just how much litter could be found in just a few hours."
Our Sustainable Sussex strategy encourages staff to take time out from their day jobs to volunteer and support our charities of choice in our community. All University of Sussex staff on a contract of 12 months or more can take two days of paid leave (pro rata) a year to volunteer.
Read more about volunteering at Sussex.
About Surfers Against Sewage

Surfers Against Sewage, one of our charities of choice, is a marine conservation charity working with communities to protect oceans, waves, beaches and marine life. It was created in 1990 by a group of Cornish surfers from the villages of St Agnes and Porthtowan on the north coast of Cornwall. Find out more about how to join or donate to Surfers Against Sewage.