Tom Shakespeare talks relationships and interdependence at 'Inclusive Sussex: In Conversation with' event
Posted on behalf of: Internal Communications
Last updated: Thursday, 8 June 2023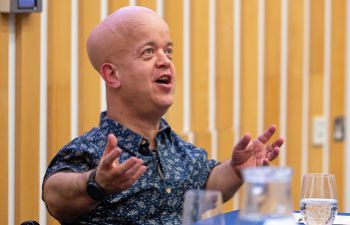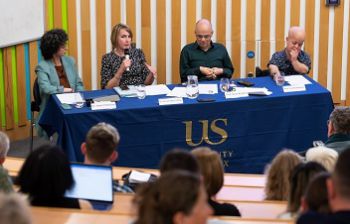 The University of Sussex welcomed academic and disability activist Professor Tom Shakespeare to our recent 'Inclusive Sussex: In Conversation with...' event on 17 May.
Tom joined a panel featuring David Ruebain, Pro-Vice-Chancellor (Culture, Equality & Inclusion), Hannah Mason-Bish, Senior Lecturer in Sociology and Criminology, School of Law, Politics and Sociology, and Hadeer Elshafie, Lecturer, School of Law, Politics and Sociology. Discussing the current picture of disability inclusion, they spoke about relationships, law, theory, disability rights, the urban environment, and interdependence - the idea that each of us is connected to, and relies on, many others. The audience of staff, students and the wider community also shared questions and comments as part of the discussion.
David Ruebain said: "We were honoured to host Tom in conversation with Hadeer, Hannah and me on a wide range of matters impacting disability liberation.  We talked rights, charity, protest, theory, the environment, abuse, the law, relationships and sex!"
You can view images from the event and watch the replay below.
Relationships and family life
Relationships and the right to family life and privacy were key themes during the discussion, and the group highlighted that sex and disability are generally regarded as taboo and not explored in public discourse. Tom said: "It's very interesting in terms of sexuality because if you are a carer for somebody, you don't find them attractive. The caring role that many disabled people require can bleed into or segue into a parental role; that's why disabled people want independent living."
Hannah added that disabled women are often at the intersection of multiple oppressions in this area: "I've certainly seen the dichotomy that whilst disabled women are often fetishised, they are more likely to experience sexual violence than non-disabled women. They are also much less likely to get any access to justice because people don't believe that someone would want to be with them sexually."
Interdependence and environment
The limitations of the law in transforming society and driving inclusion were also discussed, and David highlighted that interdependence is key: "These issues are not just for disabled people, but about how we know, relate to and understand each other, and how we drive towards real human to human experience, which is not cluttered by and restricted by identities." Tom added: "We need a conception of inclusion that goes much further than the law, beyond identity. For me in my reading, the idea of Ubuntu, an African notion, holds the idea that 'I am with others, therefore I am' and so your identity is bound up with your community. We are together as one, and we each look after the other."
Hadeer went on to explore the shame that some people with disabilities may experience, looking at the idea of the city and particularly the university environment and how it fits within a neoliberal society where scoring high grades and being productive is seen as the ultimate aim. Hadeer said: "If we look at neurodiversity as an example, an invisible disability where negotiating spaces within the city is not the same, it varies between one person and another. The university is part of the tissue of the city, it can be a place or a space that is challenging for people. It invites us to look at disability within the university as a social process rather than something that still drives from a medical disclosure."
Following the event, Hannah said: "The event was an excellent opportunity to hear from different voices with much to contribute around disability and equality. My main take away was that inclusion is a journey and not a destination and we can all be open to learning from different perspectives."
Hadeer added: "The event was a safe space for sharing our reflections and learning from each other's experiences. Listening to my colleagues speak, and the audience reflecting, I learned that the (possible) vulnerability which we face could, in fact, harbour a gentle space for empowerment. I learned a lot from this insightful and constructive talk. This was an excellent space for our learning community, including public audience, to learn from, and engage with each other."
About the event series
Our 'Inclusive Sussex: In Conversation with...' event series supports our Inclusive Sussex strategy by exploring issues of liberation, equality, diversity and justice with voices from all walks of life, bringing their expertise and lived experiences to the fore.
Sussex has a proud history of welcoming staff and students from the widest range of backgrounds and from all over the world, and in working to create a truly inclusive community that values diversity of identity, background, belief, thought, discipline and method. We continue to strive for Sussex to be a leading example of good practice in advancing equality, diversity and inclusion and a place which welcomes rigorous discussion and debate and where everyone can thrive. 
Information about upcoming 'Inclusive Sussex: In Conversation with...' events will be available soon on the Staff Hub.