Marking IDAHOBIT this 17 May 2023
Posted on behalf of: EDI Unit
Last updated: Wednesday, 17 May 2023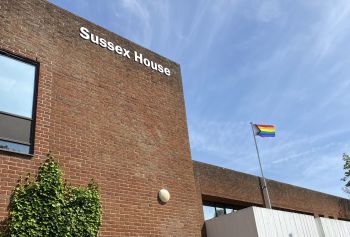 International Day Against Homophobia, Biphobia and Transphobia (IDAHOBIT) is held each year on 17 May.
IDAHOBIT invites us to acknowledge the need to challenge homophobia, lesbophobia, biphobia and transphobia all year round.
The purpose of IDAHOBIT is to raise awareness of the ongoing discrimination, violence and marginalisation faced by lesbian, gay, bisexual, and trans people and all of those with diverse sexual orientations, gender identities or expressions, and sex characteristics.
The campaign seeks to celebrate diversity and advocate for the rights of LGBTQIA+ people and the theme of this year's IDAHOBIT is 'Together Always: United in Diversity.'


What's on?


On campus
The Pride flag is flying over Sussex House to mark the date, and the LGBTQ+ Staff Network are inviting all staff to a picnic today at the Meeting House, 12.30-2.20pm.
Inclusive Sussex
Vice-Chancellor Sasha Roseneil and Pro-Vice-Chancellor for Equality, Diversity and Inclusion David Ruebain discuss IDAHOBIT and the University of Sussex's commitment LGBTQ+ Inclusion.
In Brighton & Hove
Today, 17 May 2023 at 6pm, the Rainbow Chorus will lead the IDAHOBIT Community Vigil in Jubilee Square, Brighton.


Support for staff and students