David Ruebain: Inclusive Sussex update
Posted on behalf of: Internal Communications
Last updated: Wednesday, 17 May 2023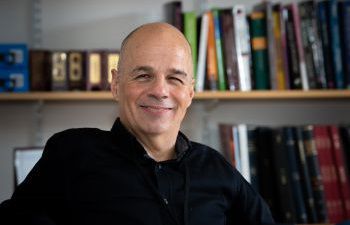 Dear Colleague,

In this month's update I want to consider International Day Against Homophobia, Biphobia and Transphobia, which is today (17 May). I'll also mention:
Tonight's Inclusive Sussex: In Conversation event with Tom Shakespeare
Brighton Festival and Fringe Festival events
Discounted tickets to Brighton & Hove Albion Women's team matches
International Day Against Homophobia, Biphobia and Transphobia
Today, 17 May, marks International Day Against Homophobia, Biphobia and Transphobia (IDAHOBIT). Of course, we must challenge discrimination all year round, but IDAHOBIT is an opportunity to focus on and raise awareness of the ongoing discrimination, violence and marginalisation faced by lesbian, gay, bisexual, and trans people.

At the same time, the day is also an opportunity to celebrate diversity and the importance of ensuring the rights of LGBTQIA+ people. The theme of this year's IDAHOBIT is 'Together Always: United in Diversity.'

Marking IDAHOBIT, Vice-Chancellor, Professor Sasha Roseneil, said:

"On International Day Against Homophobia, Biphobia and Transphobia, the University of Sussex is proud to restate our determination to ensure that all lesbian, gay, bisexual, trans, non-binary, and gender non-conforming students and staff are fully included as equal members of our community. Sussex has a long history of welcoming those who have been marginalised and excluded by discriminatory attitudes, beliefs and practices in relation to sexuality and gender, and Sussex has played a pioneering role in the academic study of sexual dissidence and of gender. Whilst we know that there is still a long way to go before full equality and inclusion are achieved, we are deeply committed to these values, and to taking meaningful action to ensure that diversity flourishes on our campus."

Today we are flying the Pride flag over Sussex House, and the LGBTQ+ Staff Network is hosting a picnic at the Meeting House from 12.30pm - 2.30pm. All Sussex staff are very welcome to join.
What action are we taking?
More generally, the University has a LGBTQ+ Inclusion Action Plan to help us in our aim to become a Stonewall Workplace Equality Index top 100 employer. The Action Plan includes work to:
develop a Trans and Non-binary Inclusion Policy and a range of supporting materials, including guidance on pronouns
improve the quality of the data that we have on our LGBTQ+ staff and students to help us build the evidence base to inform and underpin our work to address issues of under-representation and disadvantage
launch LGBTQ+ Stories@Sussex – a queer storytelling project which aims to give voice to the experiences of LGBTQ+ staff through creative mediums. We will publish more on this project soon
support and develop our LGBTQ+ Staff Network and Trans and Nonbinary Staff Network as well as a range of actions relating to enhancing the student experience.
Inclusive Sussex: In Conversation with Professor Tom Shakespeare – tonight!
Our next Inclusive Sussex: In Conversation event is tonight, 17 May, from 5.30pm - 7pm in Fulton B. We'll be joined by Tom Shakespeare, Professor of Disability Research at the London School of Hygiene and Tropical Medicine. In a panel discussion with Dr Hadir Elshafay, Dr Hannah Mason-Bish and me, Tom will discuss next steps in disability, liberation and equality. There will be an opportunity for audience questions and discussion, as well as drinks after the event. Tom is a renowned public academic and disability and equality activist and I very much look forward to the conversation and to hearing from staff and students. I do hope you can join us for what promises to be a fascinating evening. Please email events@sussex.ac.uk if you would like to attend.
Brighton Festival and Fringe Festival events
I am delighted that the University's Black at Sussex programme is partnering with Culture ConneX to produce an exclusive series of events at this year's Brighton Fringe Festival throughout May. There are performances, installations and exhibitions at various locations, including an installation from Sussex alumnus Michael McMillan and photography from Media, Arts and Humanities PhD student, Tunde Alabi Hundeyin II.

Meanwhile, last week I had the pleasure of introducing 'A Survivor's Guide to Politics' with Rafael Behr at the Attenborough Centre as part of the Brighton Festival programme. The event was subtitled 'how to stay engaged without getting enraged' - an approach that feels ever more important in the world - and the fascinating conversation explored the nature and context of big, divisive issues including Brexit and class.

And, on 27 May, I very much look forward to introducing Munroe Bergdorf at the upcoming event, Transitional. An internationally renowned activist, model, writer and broadcaster, Munroe was awarded an honorary doctorate by the University of Brighton in 2019 for campaigning for transgender rights and is a National Advocate for UN Women UK. She will offer broad reflections on transitions, on how we all develop and on building a stronger community.
Discounted tickets to Brighton & Hove Albion Women's matches
Finally, I'm really pleased that we are offering staff and students discounted tickets to watch Brighton and Hove Albion's women's football team play and I hope many of you will take advantage of this offer, either this season or in future.

With good wishes,

David

David Ruebain
Pro-Vice-Chancellor (Culture, Equality and Inclusion)