Walk on the wild side: student trip to the Knepp Rewilding project
Posted on behalf of: Sussex Sustainability Research Programme
Last updated: Thursday, 30 March 2023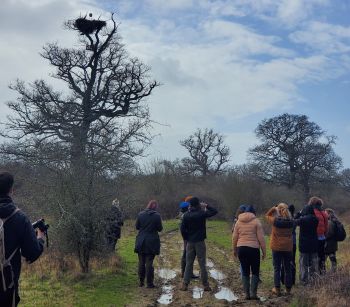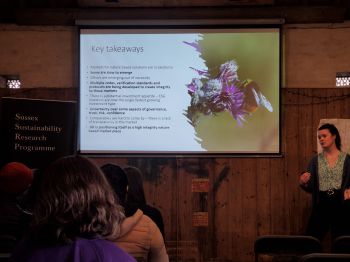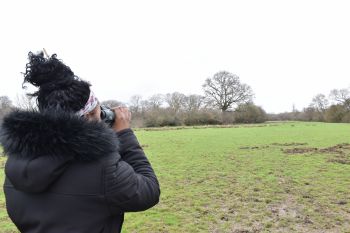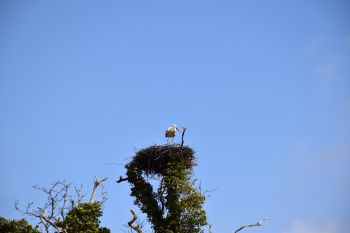 To mark the celebration of World Rewilding Day and Sustainable Sussex month, a mix of students from across the university spent a day out in the wild and dynamic Sussex countryside, and visited one of the largest rewilding initiatives in lowland Europe: Knepp Estate. Organised by the Sussex Sustainability Research Programme (SSRP), the trip included talks, a walking safari tour around the site and a workshop on South Coast Sustainability, led by SSRP researcher and rewilding expert Dr Chris Sandom (School of Life Sciences).
Not only did this give Sussex students the opportunity to blow away some cobwebs and spot the first signs that spring has finally sprung, but it also allowed them to learn about the benefits of a 'rewilding' approach to land management. Knepp follows this holistic approach which enables natural ecosystems to recover and flourish, essentially letting nature 'work its magic'. Located just 16 miles from Gatwick airport, the story of Knepp is a successful example of ecosystem restoration from a past of modern intensive farming in the eighties to eventually becoming a breeding hotspot for many species across its 3,500 acres, including the critically endangered nightingales and turtle doves.
The day at Knepp started off with an insightful talk by Molly Bidell, Head of Natural Capital, on the role of nature-based solutions in increasing biodiversity, moving towards net-zero targets and ultimately achieving the UN Sustainable Development Goals (SDGs). Students then ventured out into the wilderness and embarked on a two-hour guided walk, spotting red and fallow deer, free-roaming long-horn cattle and birds of prey.This time of year is also perfect for admiring the engineering work of beavers in the estate's wetlands down below and that of many nesting white storks high up in the trees.The highlight of the trip for both participants and guides alike: the sighting of the white-tailed eagle, the largest UK bird of prey, which had become extinct in the UK in the 20th century! The trip ended with Chris Sandom's workshop on South Coast sustainability which encouraged students from various Schools, years and backgrounds to imagine a sustainable landscape for Sussex, and reflect on their relationship with nature.
Dr Chris Sandom, Senior Lecturer in the School of Life Sciences, says: "It was really fun to visit Knepp with students from all over campus sharing their different perspectives. The needs of people and nature are diverse, and we're going to need diverse groups of people to get involved in working out how we meet all those needs. This was exactly that type of group. Whether it is at Knepp or on our own little rewilding project on campus called Love Your Scrub it is hugely rewarding to work with a diverse group out in diverse nature."
Dr Chris Sandom, who has visited Knepp over the last seven years for research purposes and fieldwork with students, has recently been awarded with an SSRP grant to develop sustainable land use systems along England's South Coast through capacity building, together with an interdisciplinary research team across the University of Sussex, Institute of Development Studies and the local community. He is the founder of Rewilding Sussex, a community group supporting nature recovery in Sussex, including projects on the University campus such as Love Your Scrub, which aims to increase scrub habitat for the enhancement of biodiversity and human wellbeing.
---
If you would like to get involved in more rewilding and sustainability-related work on campus and beyond, check out some of these exciting initiatives, resources and events:
Last week also saw the launch of the People's Plan for Nature which aims to be the UK's biggest ever conversation about the future of nature and push for nature-friendly farming and rewilding of 'non-productive' land, amongst other things. See how you can add your voice to the conversation.