Your student update: win up to £10,000 - plus free tea/coffee for finalists
Posted on behalf of: Student Communications
Last updated: Thursday, 16 February 2023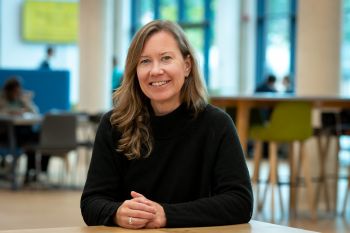 Professor Kelly Coate, Pro Vice-Chancellor for Education and Students, wrote to all taught students earlier today. Read the full message below.
Hello,
As the Winter Graduation ceremonies last week showed, Sussex is a vibrant, global and diverse community. You can check out the best Winter Graduation photos in this photo gallery and read more about the celebrations in this news story.
In the latest Inclusive Sussex update, Professor David Ruebain, Pro Vice-Chancellor for Culture, Equality and Inclusion, highlights a series of activities and events that you may enjoy this month on campus, including:
Professor Ruebain also announced his new appointment as the executive lead for freedom of speech, which he will undertake alongside his current role leading on culture, equality, diversity and inclusion (EDI), and driving forward our ambitious Inclusive Sussex programme.
Read on for this week's update, including:
Final-year undergraduates – free tea/coffee on campus
Update on cost of living support
Startup Sussex: win up to £10,000 to fund your business idea
Helping you find your place at Sussex
Get a paid research job this summer
Upcoming Industrial Action
We're looking for extras for a documentary
Final-year undergraduates – free tea/coffee on campus
Thank you to those of you who have already completed the National Student Survey. The NSS is an independent survey which gives you the chance to tell the world about your time at Sussex. It takes less than 10 minutes, and your responses will help future students to decide which course to study and where, just like you did a few years ago.
As a thank you, don't forget to collect your free coffee or tea voucher from our NSS Agents. You can find them at the following locations:
Library Square: Monday – Friday, 11am-3pm
Library vending room: Monday – Friday, 11am-3pm
Inside Jubilee building foyer: Monday – Thursday, 11am-3pm; Friday, 11am-1pm
And if you complete the survey online before 28 February, you'll enter a prize draw for one of two £1000 cash prizes.
Fill in the National Student Survey now.
Update on cost of living support
I'm aware that you may have concerns about money this year, given the rising cost of living. Please read this update on cost of living support from the University, which covers how to access advice, information and support services as a student, and much more.
If you need any support, don't forget to check the wellbeing services available on the Student Hub too.
Startup Sussex: win up to £10,000 to fund your business idea
Applications have just opened for the Startup Sussex competition, our annual Entrepreneurship competition. You have the chance to win up to £10,000 to fund your business idea or social enterprise, as well as high-quality business support.
Helping you find your place at Sussex
Through the Belong at Sussex programme, we recently offered 14 students a fully-funded cooking workshop at Brighton Community Kitchen, a social enterprise in the heart of Brighton. They enjoyed a relaxed sociable atmosphere while learning how to batch-cook budget-friendly vegetarian meals for the week ahead.
Belong at Sussex offers a range of activities to support students from varied backgrounds to find a sense of belonging and community at Sussex. Find out more about Belong at Sussex on the Student Hub.
Get a paid research job this summer
The Junior Research Associate (JRA) Scheme is open to students in their second year of undergraduate study, or second or third year of a four-year degree. JRAs receive a bursary to undertake an eight-week, full-time research project over the summer months, working with academic supervisors to contribute to cutting-edge research across the university. Register now for the briefing session on 14 February to find out more.
Upcoming Industrial Action
As mentioned in my previous update, Sussex is one of 150 universities where University and College Union (UCU) members have voted in favour of industrial action over pay and working conditions, and one of 67 who are striking in relation to the USS pension scheme.
On the Student Hub you can find upcoming dates for this nationwide industrial action, when some staff may exercise their legal right to strike. The strike action days next week will be Thursday 9 February and Friday 10 February.
We will do everything possible to minimise the impact on your studies and the running of University services during any industrial action. Please check the Student Hub pages first if you have any queries.
We're looking for extras for a documentary
Professor Anil Seth, Professor of Cognitive & Computational Neuroscience, is being filmed for a documentary titled 'Conscious'. Film makers will be asking the question, 'What can a neuroscientist and three people living with dementia tell us about consciousness in a technological age?'
Prof Seth will be filmed giving a talk at the ACCA and we need extras on the day to act as audience members sitting in the auditorium.
Filming will take place for around 2.5 hours on Saturday 11 February. If you'd like to take part, please register your interest on Eventbrite.
With best wishes,
Kelly
Professor Kelly Coate, Pro Vice-Chancellor for Education and Students