Human connection is key to inclusion, says David Ruebain at Professorial Lecture
Posted on behalf of: Internal Communications
Last updated: Monday, 28 November 2022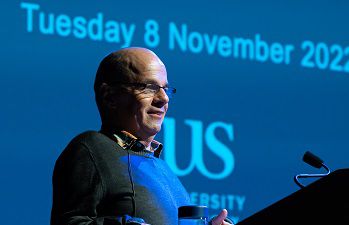 David Ruebain, Pro-Vice-Chancellor (Culture, Equality & Inclusion) explored whether the law can deliver inclusion at his inaugural Professorial Lecture at the Attenborough Centre on Tuesday 8 November.
You can watch the replay below and view a gallery of images from the event.
(View a transcript of this replay by selecting 'Watch on YouTube' and then 'Show transcript.')
Introducing David to the audience of staff, students and guests, Vice-Chancellor Sasha Roseneil outlined some of his remarkable achievements and career highlights to date, including previous experience as Chief Executive of Advance HE's Equality Challenge Unit and Director of Legal Policy at the Equality & Human Rights Commission. Currently a Visiting Professor of Law at Birkbeck College, member of the Advisory Board to the EW Group, and adviser to the Premier League, David is also a consultant to Black Thrive Global, which seeks to address the impact of systemic racism on Black communities.
David is a past winner of RADAR's People of the Year Award for Achievement in the Furtherance of Human Rights of Disabled People in the UK, and has also been named as one of the 25 Most Influential Disabled People in the UK by Disability Now Magazine. Last month, David received an Honorary Doctorate from the University of Law for his work on equality, diversity and inclusion and for advancing human rights of disabled people.
During his lecture, David reflected on the nature of inclusion, its legal history and its impact, drawing on his experience as a practicing solicitor and in policy development. He also shared some thoughts from personal experience, including as a disabled person.
Reflecting on accessibility, interdependence and human flourishing, David said: "We must focus on lived experience and also human connection in thinking about both rights and justice work, foregrounding our understandings through intimacy as a key part of liberatory work. Such understandings come from long-term commitment and listening to each other, which in turn requires relationship-building, not simply service provision."
He went on to discuss the "importance of relationships to achieving liberation and inclusion, and that these relationships are interdependent. Through this, we recognise how we are transformed by connection and not the division that often comes through individualism and competition."
An open Q & A with the audience followed, with Donald McGillivray, Professor of Environmental Law and Head of Sussex Law School sharing final remarks, thanking David for a wide-ranging and insightful professorial lecture.
Find out more about how we aim to build an Inclusive Sussex.