Updated Skills Hub goes live
By: Maria Balboa Carbon
Last updated: Friday, 23 September 2022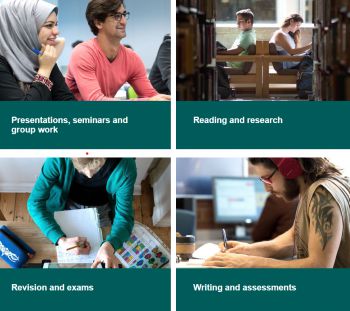 The new Skills Hub is launching on Monday 26 September, in time for Week 1. A key component of the Pedagogic Revolution, the new website is an essential resource for both students and staff.
The Skills Hub has always been the go-to place for students to get online advice on essay writing, referencing, plagiarism or revising for exams. It has now been redesigned following student and staff feedback to ensure it provides helpful and accessible guidance for students to develop the necessary academic skills they need to succeed at university.
Successful students are active learners who, instead of just passively receiving knowledge from books, lectures and tutors, also search for information, check that they understand it, and prepare for events ahead of time.
The new website will help students identify which academic skills they already have and which ones they need to improve or acquire. It will also provide them with training and support to develop new skills and actively engage with their studies. Some of the areas covered in the new Skills Hub include:
Time management
Note making
Critical thinking
Presentations, seminars and group work
Reading and research
Referencing and academic integrity
Writing and assessments
Revising and exams
Kelly Coate, Pro Vice-Chancellor for Education and Students, said:
"The input from both students and staff has been essential to redesign the Skills Hub. We all want our students to achieve their full academic potential and do well at University. The new Skills Hub will help them develop the necessary skills to get there while enabling staff to focus on more advanced teaching and learning aspects of their roles."
Updates on the Skills Hub will continue until January. In the coming months, the Hub will be populated with interactive resources for staff to download and embed into teaching material.
If you have any feedback about the new Skills Hub, please email Adam Bradley at Adam.Bradley@sussex.ac.uk.