Sussex students take part in Silent Disco Beach Clean
By: Tom Walters
Last updated: Friday, 24 September 2021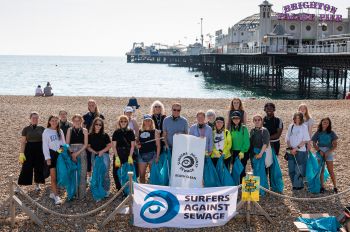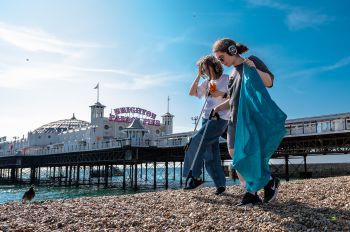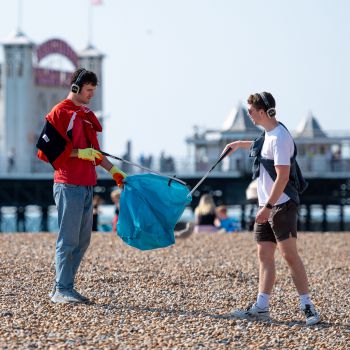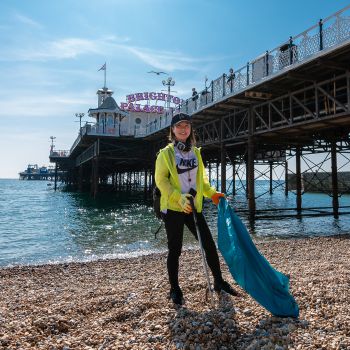 Sussex students take part in Silent Disco Beach Clean
What do you get if you combine a love for the environment and great music? Well, a number of Sussex students may well have just found out.
The silent disco beach clean, which took place yesterday (Wednesday 22 September) on Brighton beach, saw around thirty Sussex students grab their litter pickers and gloves, don headphones and set off to collect as much rubbish from the beach as they could – all whilst dancing away to their favourite songs.
The event was co-hosted with University of Sussex charity partner, Surfers Against Sewage who work to keep the UK's beaches clean and raise awareness of water pollution and the impacts of plastic.
Helping to kick off the event was Sussex Vice-Chancellor, Adam Tickell and and Pro Vice-Chancellor for Education and Students, Kelly Coate, who joined the students in their efforts.
Adam Tickell, who has been a personal member of Surfers Against Sewage for the past three years, said: "It was great to take some time out today to help clean the beach. We all have a responsibility to ensure our seas are free of waste – but also as a coastal university I feel we also have an extra responsibility here.
"I'm also delighted that our partnership with Surfers Against Sewage is starting to pick up speed, with an event such as this really helping to get our students involved.
"I've thoroughly enjoyed my time here today with the team of volunteers and I'm extremely proud of what they have managed to achieve".
The University of Sussex recently announced a new partnership with environmental charity Surfers Against Sewage (SAS) as part of its plans to become one of the world's most sustainable universities.

As part of this partnership staff and students are set to take part in local beach and river cleans as part of the agreement while the University campus will host awareness raising events on sustainability issues.