University of Sussex rises up prestigious global rankings
By: Neil Vowles
Last updated: Thursday, 2 September 2021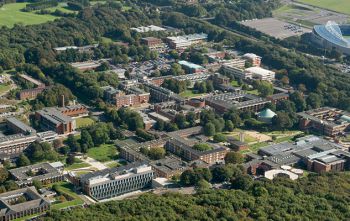 The University of Sussex has climbed nine places in the latest edition of a leading global rankings.
The University has been listed joint 151st in The Times Higher Education (THE) World University Rankings 2022 – up from joint 160th a year ago.
The University has also maintained its position amongst the highest-ranked in the UK for another year. Sussex has been ranked 21st out of 101 UK institutions this year.
The University has maintained its strong position despite the rankings becoming more competitive with more than 100 universities being added to the judges' consideration. This year, the THE rankings assessed 1,662 institutions globally compared to 1,527 last year.
The University's rise up the global rankings was largely driven by significant improvement in the field weighted citation of Sussex research publications which led to an improvement of 29 places globally in the category since last year.

Among the University's most highly-cited studies for 2020, Professor John Drury (Psychology) co-authored a paper Using social and behavioural science to support COVID-19 pandemic response, which identified insights for an effective response to the COVID-19 pandemic and highlighted important gaps researchers needed to fill urgently.
It also includes Prof Alessandro Cerri (Mathematical and Physical Sciences) contribution to Review of Particle Physics which listed, evaluated, and average-measured properties of subatomic particles including gauge bosons and the recently discovered Higgs boson, leptons, quarks, mesons, and baryons.
THE World Rankings are broken down into five pillars; teaching; research, citations, industry outcome and international outlook. Sussex is ranked among the top 100 universities in the world for citations (76th) and international outlook (61st).
Professor Rachel Mills, University of Sussex Provost, said: "Each year an increasing number of institutions are considered in the THE World Rankings of research-intensive organisations.

"We are therefore extremely proud that we continue to improve in global rankings, particularly as the competition becomes more and more intense.
"We are regularly placed in or around the top 20 universities in the UK in global rankings. We now must focus on delivering an outstanding student experience, so we can achieve this standing in all league tables."