Sussex Online Distance Learning to welcome its 1,000th student
By: Tom Walters
Last updated: Monday, 12 July 2021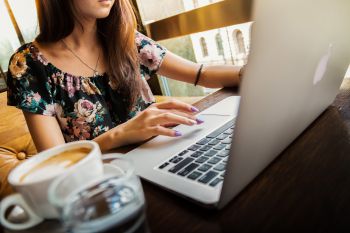 The University of Sussex announced today it has now welcomed the 1,000th student onto its Online Distance Learning portfolio.
Launched in 2018, the new 100% online courses were seen as a major investment into flexible, online learning; part of a 10-year partnership with online education experts Pearson, which would deliver a growing number of masters level qualifications online.
Since then, the portfolio has flourished, with a number of online courses. Welcoming the 1,000th student marks a significant milestone in the University's online learning provision.
Mellow Sadik, the University's Online Distance Learning Manager, said:
"We're really proud to be welcoming our 1,000th distance learning student this July. When we launched our first 100% online course less than three years ago, I had no idea we'd reach this meaningful milestone so quickly!
"This has all been possible through working as one university, and in close collaboration with our distance learning partner. With everything we do, we're walking the talk and living the values of the Sussex 2025 strategy. My thanks to everyone involved, and here's to welcoming the next 1,000 students!"
Globally, it is a growing trend, with online learning the quickest growing market in the global education industry, growing 900% since the year 2000. This has also been fueled by a demand for reskilling and learning while at work, aiming to meet the demands of evolving labour markets.
However, it is in the delivery of these online courses – combining teaching excellence and unique forms of pedagogy – which helps them stand out, with benefits to staff in both teaching and learning.
Academic staff working on online distance learning course development have the opportunity to look at pedagogy, course development and teaching from an entirely new perspective. Moreover, the University owns the intellectual property, so content developed for online courses can be reused in 'on-campus' materials – a huge benefit to academic staff.
Additionally, anecdotal evidence has suggested that academics who taught on the online distance learning courses found it easier to teach their 'on-campus' students when the Covid-19 pandemic hit last year.
Sam Ahmadi, Deputy Course Director for the International Marketing MSc Online Distance Learning course, said:
"Teaching on the ODL International Marketing degree has been a blessing for me. The nationality and gender mix is second to no degree, with the majority of our students working full-time jobs. The learning on the ODL degree goes both ways as students share the knowledge they gained from working, and it is always fascinating to read their assignments. Their commitment, passion and professionalism is commendable."
The connection with Sussex's world-leading academic experts is a key reason students choose Sussex, and this philosophy underpins the design of the list of diverse 100% online masters level courses.
Our distance learning portfolio launched in September 2018 with an MSc in International Marketing. More courses soon followed, including an MSc in Energy Policy and a Sustainable Development MSc.
There are now nine courses covering a wide range of areas – all with a continued emphasis on interdisciplinarity – something which underlines the Sussex experience across the University, whether that is through campus-based learning or online.
Teaching is delivered by academics and practitioners, giving students access to a dedicated support network. Most importantly, the quality of the teaching and learning is exactly the same as for a degree resulting from on-campus study – and students get the same academic award at the end of their studies. In short, students experience the same academic rigour and teaching recognised world-wide for its excellence, but from anywhere in the world.
The unique learning aspect is further underlined by the format of the courses. Typically, the online Masters courses are comprised of 12 core modules, with each one taught over a seven-week period, followed by a minimum one-week break before the next module starts. Modules are grouped into three 'carousels' which spin around, enabling students to join the course every two months. This also means if students need to take a break from their studies at any time, they can simply 'step off' the course and rejoin once they have the time to concentrate on their studies again, subject to the maximum study period.
The courses focus on real-world case studies that provide learners with practical new skills for their career. However, it is more than that; it is the chance to make new international connections by working collaboratively on projects with fellow students around the world.
What's more, University of Sussex staff are entitled to a 20% discount off the standard tuition fees for the University's full online masters level courses. If you would like to read more about this fully flexible mode of learning, please visit the University of Sussex Online Learning website for more information.