Meet Tamanda, a young woman determined to fight corruption
By: Emma Wigmore
Last updated: Tuesday, 8 June 2021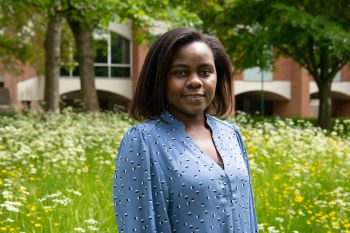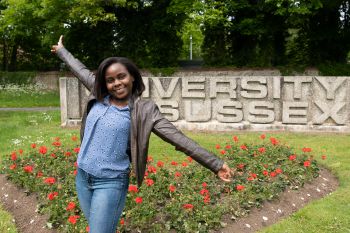 I come from the low-income townships of Malawi's capital, Lilongwe. I was raised alongside my two sisters by my mum – I lost my father when I was a little girl. My mother is a teacher who paid for my schooling from a very meagre wage. She taught me the importance of hard work, diligence and discipline, as well as education. Education for girls is a challenge in Malawi, but I still studied up to University level and gained a Batchelors degree in Social Science. After graduating, I found a job in Internal Affairs at the Malawi Revenue Authority (MRA), which is similar to HM Revenue and Customs in the UK.
I was offered a place to study at Sussex in 2019, but I had to defer because I did not have the money to pay for my tuition fees or to cover my living expenses. So, when I was offered a Mandela Scholarship, it was like a dream come true. I couldn't hold back my tears – I was overjoyed! It really makes me feel proud and it makes me want to aim higher and do my best. It has shown me that the impossible can be possible.
I chose to enrol on the Corruption and Governance MA at Sussex because my job at MRA involves fighting corruption and fostering ethics. Although Malawi has vast potential, it is a largely underdeveloped country, ranking among the top ten poorest countries in the world, and it has relatively high levels of corruption.
I came to the UK despite Covid restrictions. In my opinion, learning is about more than just gaining academic knowledge – it has to do with exposure, and learning informally through observation. I wanted to leave my home environment and to experience how people interact in a developed country, so that when I go back home it will help me devise better initiatives to combat corruption.
When I first arrived on campus I was really impressed with the beautiful architecture. Immediately, I knew I'd get more from my time at Sussex than simply an education. Park Village reminded me of my university in Malawi, which helped me to feel at home. I still missed eating pumpkin and sweet potato leaves though.
Covid has impacted my experience of studying at Sussex both negatively and positively, although the positives far outweigh the negatives. The University is truly international and restrictions did mean I was unable to physically mix with many of the other students on my course. On a positive note, my technical communication skills have greatly improved – I didn't even know about Zoom or Microsoft Teams before I came to Sussex! Another positive thing is how supportive my tutors have been throughout.
My best memory of my time at Sussex so far is what I've learned on my course. I had also never seen the sea before arriving in Brighton, however my best memory is experiencing snow for the first time. It was really beautiful and special! I remember my dad took a picture in the snow when he attended school in the UK before I was born. My father died in 1994 and that picture has stuck with me, so I wanted to see snow in memory of him.
When I graduate from Sussex, I plan to use what I've learned to improve the anti-corruption program where I work. I believe that if corruption is reduced then the government will have more money in their pocket, so will be able to improve the lives of the people of Malawi.
I believe that studying at Sussex is not only a personal achievement – I can be an inspiration for other girls where I live. I hope that I will be an example to them, to encourage them to go to school and aspire to greater things. I started a small business in Malawi making cakes – I love to bake cakes for birthdays, anniversaries and weddings. I used part of the proceeds from my small business to pay the school fees of several underprivileged female students at my former secondary school. We say in Malawi that when you educate a girl, you educate a village.
I will definitely support the Mandela Scholarship in the future. The Scholarship has shown me the value of helping those who, despite having the vision and ambition, are not able to support themselves financially. What is more, I would encourage other alumni to do the same. The benefits are much wider-reaching than simply supporting Scholars at Sussex; each student will return to Africa where they will reach out to and motivate others. It is all about making people's future possible.
You can help more young Africans like Tamanda by supporting the revolutionary Mandela Scholarship. Make your gift today.