Global audience visits the Sussex quantum labs virtually
By: Rebecca Bond
Last updated: Wednesday, 18 November 2020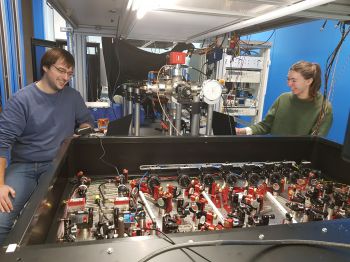 November means showcase time in the annual quantum calendar, but this was no ordinary year. Usually the University of Sussex quantum team would be making their way up to London to mix with industry, academic experts and government representatives in the annual flagship Quantum Technologies Showcase. Last year they went with a large Sussex Loves Quantum stand, exhibiting the wide variety of quantum research Sussex has to offer with an outlook to commercialisation and end-user applications.
Not to be deterred by the Covid-19 pandemic, the organisers KTN announced in September that the showcase this year would take place virtually.
This gave the University of Sussex the unique chance to bring the audience to them and from much further afield. The team invited delegates to take a tour round all nine quantum labs at the University, hearing directly from the experts themselves within their research setting, presenting their experiments in action. Delegates had a chance to ask questions, give feedback and get answers in real time.
Enthusiastic reviews came in live during the presentations, such as: "Really enjoying getting a peek inside the labs! Great job Sussex!"
Dr Manoj Tripathi, a Research Fellow from the Materials Physics group, presented his work on electronic mapping of the nanoworld. He said: "We work closely with the quantum groups using quantum sensors on our novel nanomaterials and it is very exciting to be part of the interdisciplinary research here at Sussex."
Dr Alessia Pasquazi, Reader in Physics and Astronomy, delivered a presentation on microcombs from her EPic Laboratory and said: "It was amazing to have all the quantum labs in the same space at once and be able to speak to such a wide audience displaying the breadth of quantum research here at Sussex. It is both inspiring and uplifting to be part of such an integrated and extensive team."
Professor Peter Krüger, Director of the Sussex Programme for Quantum Research, said: "At Sussex we are proud of the interdisciplinarity we bring to the table both in terms of work with industry but also across disciplines such as engineering, life sciences and chemistry. Showing our experiments in the labs rather than smaller components in an exhibition hall definitely had its plus sides and we still had live engagement from the delegates throughout."
Rebecca Bond, Communications Officer for the Sussex Programme for Quantum Research, said: "We don't usually show nearly 100 people from around the globe all our quantum labs in just under an hour. Yes, we didn't all go to London but, considering the circumstances, this was a very positive outcome."
Watch the Sussex Loves Quantum tour round the labs.
Watch the Ion Quantum Technology Group presentation.
Further information: https://www.sussex.ac.uk/research/centres/quantum/