Obituary: Richard Grove
By: Stephanie Allen
Last updated: Tuesday, 18 August 2020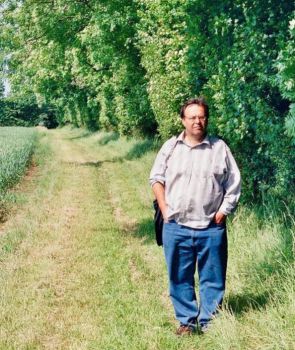 Richard Grove, Professorial Fellow of the Geography department at the University of Sussex (2006-2009) and Founding Director of the Centre for World Environmental History died on 25th June 2020. A trail blazer in the field of global environmental history, environmental activist and an energetic advocate for multidisciplinary research in climate change studies.
Richard received a BA in Geography from Hartford College, Oxford and then a Masters in Conservation Biology from University College London. His doctoral degree, awarded in 1988 at Cambridge, traced the origins of western environmentalism by counterintuitively arguing that modern European environmental imaginations were greatly influenced and shaped by their varied encounters in tropical environments between the 16th and 19th century. His PhD thesis was subsequently published in 1995 as Green Imperialism: Colonial Expansion, Tropical Island Edens and the Origins of Environmentalism, 1600-1860 and quickly achieved widespread academic acclaim as a landmark contribution.
Richard was a Fellow of Clare Hall, and College Lecturer at Churchill College, University of Cambridge until 1992. He held visiting appointments at the Australian National University in Canberra and at Yale University in Connecticut. He also spent a year at the Woodrow Wilson Center for International Scholars in Washington DC.
While initially publishing under the broad theme of global environmental history, Richard began to branch out into climate changes studies by the latter half of the 1990s with studies on the El Niño that were turned into monographs titled as Ecology, Climate and Empire (1997) and El Niño History and Crisis (2000). During this phase, Richard was keen to develop multidisciplinary and interdisciplinary engagements with atmospheric scientists, paleo-ecologists, botanists, geographers and historians.
While studies in conservation science and ecological change were central to his research concerns, Richard chose not to not draw a hard line between research, activism and struggles for environmental justice. Writing about forests or wildlife, for him, was incomplete if it did not naturally point towards challenging environmental exploitation and the wanton degradation of the natural world. His tragic car accident in 2006, which left him severely disabled, sadly cut short his academic career.
The Centre for World Environmental History at Sussex (CWEH), founded in 2002 with his wife Professor Vinita Damodaran, is a leading centre in the field with its promotion, support and research on environmental challenges facing the global south. The CWEH, since its inception, has not only built an active international network of academics, activists and scholars from South Asia and Africa but continues to attract some of the best scholars working on environmental issues from around the world.
Author: Rohan D'Souza, Associate Professor at Kyoto University, Japan, and recent colleague of Professor Richard Grove
Obituaries for Prof Richard Grove have been published in The Guardian, The Times, Times Higher Education, South African Mail & Guardian, The Indian Express.