Celebrate World Mental Health Day by joining our Brighton Marathon team
By: Charlie Littlejones
Last updated: Thursday, 10 October 2019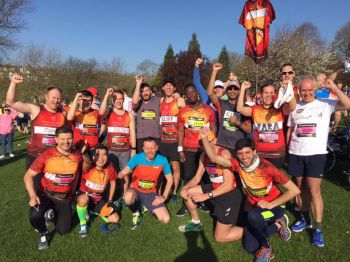 To mark World Mental Health Day (10 October), staff, students and alumni are encouraged to sign up to take part in the Brighton Marathon events in April.
All the money raised by those who sign up to be part of our Sussex 2020 team will help take our ground-breaking mental health research to the next level.
And as one in four of us in the UK experience a mental health problem each year, society is facing a mental health crisis.
Sussex is a world-leader in mental health research, both nationally and internationally, with the work of Professor Gordon Harold being recognised as one of the UK's 100 best breakthroughs of the past century for its significant impact on people's everyday lives.
His work focuses on children's mental health and challenges the argument that genetic factors are the only influence on children's mental health and development. Rather, environmental conditions, such as a supportive network and taking regular exercise, can positively influence developmental outcomes.
In just over two weeks (27 October) Professor Harold will be taking part in the Dublin Marathon when he will be running alongside Linda Byrne. Linda had previously been an Olympic runner but had to retire from competing due to her own mental health after London 2012. Professor Harold, who helped her in the early stages of her recovery, will now use the opportunity to further promote the need for safeguarding everyone's mental health.
Now you too can support Gordon's efforts in Dublin by joining our University's team at the 2020 Brighton Marathon. We have 50 places for the 2020 Brighton Marathon, 70 places for the BM10K, and 20 places for the Brighton Ride event.
We will provide you with all of the training and fundraising support that you need to succeed in your chosen event. Whether you are a cyclist, a complete novice looking to complete your first 10k run or a seasoned marathon runner, there will be something in our support package for you. All money raised will go towards supporting mental health research at Sussex.
Plus, exercise is one of the best ways of attaining good mental and physical wellbeing – so you'll not only be helping others, but yourself as well!
To find out more and register your interest please visit our registration page or you can donate to mental health research at Sussex.
Please note that places are limited and will be allocated on a first-come, first served basis – so reserve your place early to avoid disappointment.
Look out for further updates on other ways you can get involved and support the team.