Family first
New evidence has emerged that highlights the importance of the family environment. It dismantles the argument that genetic factors are the primary influence on children's mental health and development and, as Professor Gordon Harold reveals, the implications and opportunities for vulnerable children and families are huge.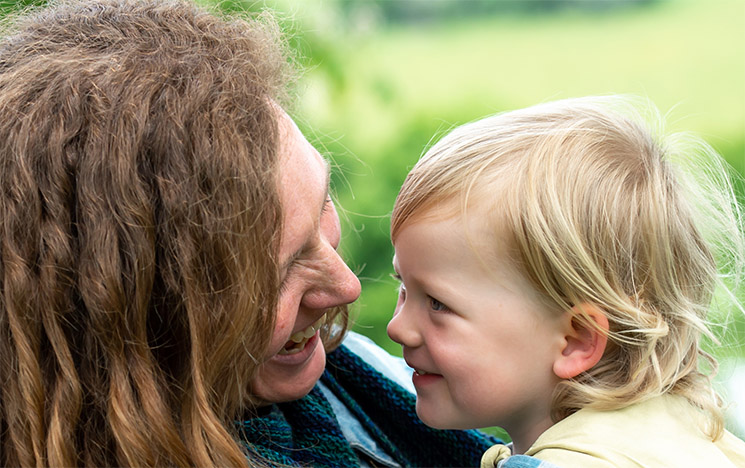 Changing lives
In 2015, Professor Gordon Harold spoke at an academic conference focusing on the needs of adoptive families and children. Afterwards, a mother approached him and told him about her family. She had heard him speak on a previous occasion, specifically about the discovery that positive and supportive parenting helps children with complex needs – no matter what age they are or whether they are genetically related to their child or not. She had been inspired to talk to her adopted teenage son about Gordon's research.

Shortly after their talk, her son came to her and handed over a knife. He told her he would no longer use it to self-harm, because he felt he mattered to her and she mattered to him. He said he realised that it was their relationship that was most important to him, not his belief that his behaviour was inevitable due to his genes.

Although confident that his research at the Andrew and Virginia Rudd Centre for Adoption Research and Practice (Rudd Centre) was discovering important ideas about the role of family relationships and the 'nature versus nurture' debate, never before had Gordon been confronted with such a stark example of how his and the Centre's work can change people's lives.
---
All children need the love, commitment and sense of belonging and connection that results from family life."

Dr John Simmonds OBE


CoramBAAF
---
Parents make a difference
The Rudd Centre is focused on finding insights into the social, psychological and community based processes that play a role in the development of children and young people. It has a particular emphasis on the specific challenges and needs faced by adopted, foster-care, looked-after children and their families. Until recently, there simply hadn't been the evidence base to show that 'nurture' affects young people's mental health and development and is just as important as 'nature'. Indeed, nature and nurture likely work together to affect children's behaviour and their futures.

This has several critical implications, including – as the mother with the adopted son realised – the idea that parents can and should be proactive in supporting and shaping their child's development, whether they are genetically related or not. For some adoptive parents, it may be understood – and even directly communicated to them by practice professionals, media and other sources – that early neglect or genetic inheritance may explain most aspects of child behaviour; that there 'is only so much they can do' to influence their adopted child's behaviours and future opportunities. The latest research shows this is simply not the case.
Self-harm
6-8%
of children and young people deliberately self-harm
–
50%
of those who die by suicide have a history of self-harm
–
5
in five years, the number of under-sixteens hospitalised after self-harming has almost doubled.
Changing the way we work
Gordon's work is changing the way parents and practitioners, such as doctors, teachers and social workers, think about the support needs of adopted, foster-care, and looked-after children and their families.
The research is also changing the way government and family-policy advocates work with families of all types, recognising the long-term benefits of effective early intervention strategies for today's generation of children and future generations of families. This has often been seen as identifying issues at a very early age and stepping in with an intervention to stop problems before they begin.
The Rudd Centre advocates that early intervention should mean intervention before problems become apparent whenever possible, regardless of age. The word 'intervention' can also sound intimidating, but as Gordon says: "An intervention can be as simple as a parent engaging in constructive conversation with their child, or simply listening when their child has something that they regard as important to discuss."
He is determined that the Centre plays a role in making sure parents receive the right support to have open, informed conversations with their children. It's never too late to start talking to children of any age about important issues, and this message is starting to be heard by major policy and practitioner groups in the UK.
As Dr John Simmonds OBE, Director of Policy Research and Development at adoption and fostering academy CoramBAAF, explains: "The focus on permanence for all children where they cannot be looked after by their birth parents has been a major influence on policy and practice in the UK over the past 50 years. Whether those carers are other family members or 'strangers', all children need the love, commitment and sense of belonging and connection that results from family life.
"And it is the responsibility of state services to ensure that this is the primary focus for every child who comes into care. The messages that have been clearly articulated by the Rudd Centre through the research of Professor Gordon Harold and colleagues could not be clearer in establishing this perspective."


Mental health in children: the challenge
The state of young people's mental health has had an increasingly high profile with between 1:5 and 1:10 children experiencing mental health problems. It costs the UK economy more than £100 million annually and is predicted to cost the global economy $16 trillion by 2030.
In 2018, it was reported that the number of newborn babies being taken into care in the UK had doubled since 2007, from 1,039 in 2007/08 to 2,447 in 2016/17. The number of children being adopted, however, has been falling.
Often, both children and adoptive parents are at the mercy of a bureaucratic process that can last years. All too frequently, children go through numerous placements before receiving an Adoption Order. Meanwhile, adoptive parents can be left guessing, with aspects of their cases falling between the remit and knowledge bases of the various practice professionals they have to work with.
The result is that young children often find themselves without a stable family environment, moving from foster family to foster family, and becoming vulnerable to a damaging cycle of exclusion and uncertainty. This itself can lead to emotional problems such as anxiety and depression and behavioural problems such as conduct disorder, drug and alcohol abuse, as well as other issues such as self-harm, homelessness and suicidality (serious thoughts, plans and attempts about taking one's own life).
The Rudd Centre is developing training programmes to maximise the translation and impact of the latest leading research into adoption and to ensure that the next generation of social workers, teachers and doctors can turn its new insights into best practice on the frontline.
Nancy Kelley is Deputy Chief Executive of NatCen, a social research organisation, and an adoptive parent herself. "It is absolutely critical that we build a much better understanding of short- and long-term outcomes for children who come into contact with the looked-after system, and in particular a better understanding of what might drive more positive outcomes," she says. "This means taking a clear-eyed look at when contact with the looked-after system helps or harms children and young people, as well as building on the learning from Professor Harold's studies to empower adoptive and foster families to parent in a way that transforms the future of the children they love."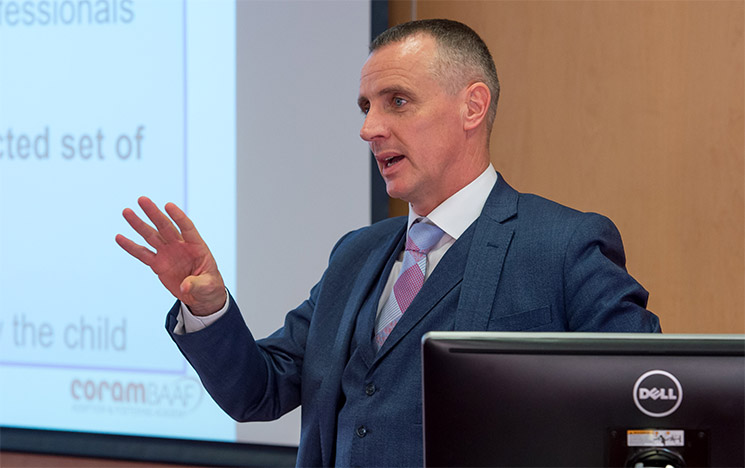 A vital breakthrough
Until now, most studies in the area of children's mental health have involved parents and children who are biologically related. This can make it difficult to know whether behaviours children exhibit can simply be explained by genetic factors passed on from parents to children, or whether the family environments that children experience affect their development and influence how their genetic makeup affects their behaviour.
Gordon set out to discover what happens when children aren't genetically related to one or both of their rearing parents. He works with a range of families – from those who have adopted children, and those in which children have been born though assisted reproductive techniques such as IVF, to families where, through divorce or separation, children aren't living with both of their biological parents.
As a result, we now have evidence that has been missing from the debate and policy decision making processes, and this is starting to change the way we think about children and families. It also addresses what can be done to promote positive outcomes for today's generation of children and tomorrow's generation of parents and families.
In December 2018, Universities UK listed Gordon's work as one of the UK's 100 best breakthroughs of the past century for its significant impact on people's everyday lives, alongside the discovery of penicillin, work tackling plastic pollution, ultrasound scans to check the health of unborn babies and the establishment of the Living Wage.
It's clear now that children aren't just affected by their genes; they're very directly affected by the family relationships they experience – specifically good parenting and healthy relationships between parents, married or not, living together or not, genetically related or not.
Now that we have the evidence that shows this, we can all start doing something to positively influence children's lives and future opportunities.
---
[We need to] build on the learning from Professor Harold's studies to empower adoptive and foster families to parent in a way that transforms the future of the children they love."

Nancy Kelley


Deputy Chief Executive of NatCen
---
A body of evidence
Built over the past 20 years, Gordon's research provides robust evidence that the quality and style of family relationships we experience as children clearly affect our mental health, not only in our early years, but also during adolescence and into adulthood. Through this research and that conducted by Professor Leslie Leve at the University of Oregon, who leads the world-renowned Early Growth and Development Adoption Study, we can now offer evidence-based support and advice to those who need it most.
The Rudd Centre is pioneering a training programme and annual symposium aimed at maximising the translation and impact of the latest leading research into adoption. Using a unique cross-disciplinary approach combining postgraduate education (at Masters and PhD level) and continuing professional development, the programme will train the next generation of social workers, teachers and doctors so that our new insights become best practice.
Initiatives and funding
The UK Government is taking notice of the research. Gordon was commissioned by the Department for Work and Pensions to conduct research around evidencebased family support interventions which has, in turn, led to the Government's promotion of targeted family support. Aimed at improving outcomes for children, it has a special focus on those that experience economic disadvantage. The Government committed £40 million in April 2017 to work with families and children.
Gordon has also been awarded funding by UK Research and Innovation to lead a network that encourages new collaborations to promote children's and young people's mental health in a digital world. Over the next four years (2018- 2022), the Nurture Network (eNurture) will bring together academic researchers, professional advisers and partners from public, private and third sector organisations, to address this important dimension of young people's experiences in 21st century society.
Young people's mental health
75%
of those with a mental health condition start developing it before the age of 18
–
7 in 10
young people with a mental health problem haven't had sufficient help at an early age
–
3
children in every classroom have a diagnosable mental health condition.
source:
www.mqmentalhealth.org
---
More information
The Rudd Centre was established at Sussex with a generous donation from Andrew (MAPS 1968) and Virginia Rudd. If you want to find out more about the evidence-based support that is available for parents, families and organisations visit the
Andrew and Virginia Rudd Centre for Adoption Research and Practice
.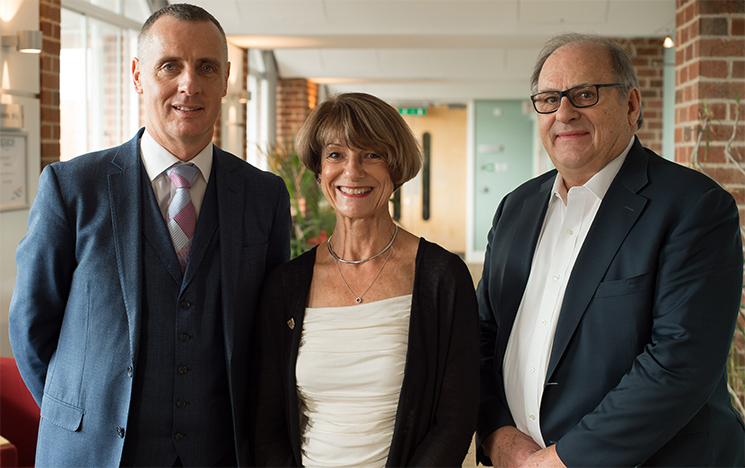 ---
You might also be interested in: