University of Sussex awards degree to youngest ever honorary graduate
By: Rose Tremlett
Last updated: Friday, 19 January 2018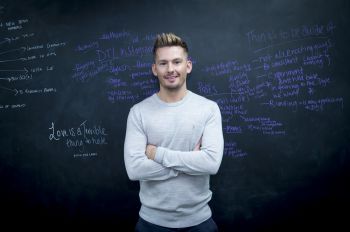 The University of Sussex today awards an honorary degree to Brighton-based charity CEO Liam Hackett – on the day of his 27th birthday.
Liam Hackett founded the equality and anti-bullying charity Ditch the Label aged just 16 after starting a MySpace page reaching out to other people impacted by bullying. He expanded the business while studying for his degree in business and management at the University of Sussex. Now it is a thriving charity, recently expanding into the USA and Mexico, and has helped hundreds of thousands of young people affected by bullying.
Liam will receive an honorary Doctor of the University degree from Sussex on Friday 19 January, as part of its Winter Graduation event. He said: "To be honoured as the youngest ever honorary graduate today is one of my proudest moments and I truly am speechless. Ditch the Label is now a global movement and I am proud to devote my career to standing up for the civil rights and liberties of others."
The theme for the University of Sussex Winter Graduation 2018 is role models. We will be highlighting many students who have made a difference to their peers or in their communities.
The University of Sussex runs its own Role Models Project – a peer-led mentoring scheme that trains University of Sussex students to create and deliver workshops for groups of young people (aged 12-15) in the local community, providing them with role models and a safe supported space to be listened to and ask questions. The aim is to engage with concerns around areas such as mental health and wellbeing, digital technology and social media, body image and self-esteem, gender and sexuality, healthy relationships, and our relationships to the wider world.
Professor Adam Tickell, the University's Vice-Chancellor, said: "At the University of Sussex we are proud to be known for our thoughtful and alternative approach to the world. We aim to attract students with passion, who think differently, and to develop these skills during their time here – encouraging them to dare to debate, and to affect real change in their communities.
"Our international students have often sought to use their Sussex education as the foundation for positive change in their homelands. I think that's a tremendous ambition.
"I could not be prouder of this year's graduates from the University of Sussex. They are the embodiment of energy, hope and possibility for the future, and I will watch their future progress with pride."
Sussex's two-day Winter Graduation event is being held at the Brighton Centre on 18-19 January 2018, and will see 2,883 students graduating, aged from 21 to 78, from more than 114 countries. The ceremonies will be streamed live to friends and families across the UK and around the world.
The University of Sussex is one of the top 20 universities in the UK, and is ranked third in the country for graduate employment prospects. The University contributes more than £200-million of the economic output of Brighton & Hove and Lewes.