Record numbers of Sussex students take part in summer schools at top global partners
By: Victoria Shaw
Last updated: Tuesday, 1 August 2017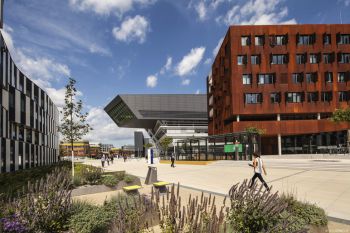 Over 125 undergraduates will head out to leading international partners over the coming weeks, all supported by around £65,000 in bursaries from the International Partnership Development Fund.
The Global Excellence Summer Programme (GESP) has grown 10-fold since 2013, with partners now in Austria, Canada, China, the Czech Republic, Germany, Finland, France, Hong Kong, Italy, Japan, the Netherlands, Russia, South Korea, Spain and Taiwan.
These include established study abroad links, such as Bocconi University, Humboldt University, The Hong Kong University of Science and Technology, Renmin University and Utrecht University.
New partners for 2017 include top 100 global institutions McGill University, Washington University in St Louis, the University of Helsinki and Fudan University.
This year, a record five students have been selected to undertake a research placement at The Chinese University of Hong Kong, allowing them to join a world-class research team and work alongside leading experts in the field.
"The Global Excellence Summer Programme builds on our strong partnership network to provide outstanding opportunities for undergraduates," said Professor Stephen Shute, Pro-Vice-Chancellor (Planning and Resources). "Participating students develop self-reliance and global competency, which are increasingly important for professional employment."
Summer schools range from two weeks to two months, with many of the rigorous academic courses tailored to the host region. Students can also benefit from language study and immerse themselves in the local culture through activities and excursions.
The experience supports networks for future career development and participants often make lifelong friendships with peers from around the world. Gaining a taster of study abroad has also led to an uptake in further mobility among returnees.
"My time in Taiwan was incredible," said Chloe Quinn, a law student who visited National Chengchi University last year, taking classes from prominent experts in Chinese classics. "The University also organised excursions within Taipei and to other places around the island."
This scheme is open to first- and second-year students and full scholarships are available to First Generation Scholars for limited partners. For further information, contact Lucy Cahalin in the Sussex Abroad office on l.cahalin@sussex.ac.uk.