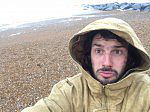 Mr
Richard Thornton
Biography
As a two-year-old child I was moved from London to the US, then back again aged 9. My experience of gender-segregated, hyper-academic UK private schooling left me with a lasting desire to re-imagine schools as sites of emotional and art-based learning, especially from a social and cultural perspective.
Having business-minded parents, I tip-toed into the corporate world for a couple years with placements at Deloitte and a French advertising agency. Having no student debt or other financial pressures, I felt free to discard this life-route and move into the arts. Three years in London making music, working in a publishing house, making theatre, and teaching creative writing then led me to spend a year in Beirut learning Arabic and continuing creative and journalistic pursuits. After four years of city living, I decided to spend a year visiting ecovillages and intentional communities, while writing a blog called All I Want For Christmas Is A New World.
It was this blog, and a girl I fell in love with, that led me to the Netherlands and to studying Cultural Anthropology: Sustainable Citizenship at Utrecht University. Before this I thought 'anthropology' was just the study of prehistoric peoples.
My Master's research in a public-private partnership school in Delhi led me to where I am now: conducting fieldwork for my PhD in Anthropology at Sussex.
Activities
PhD Tutor at The Brilliant Club, teaching a course that I designed, Does Society Need Schools?, to 13-15 year olds.

Editor of the Reflections section of Sentio, the SeNSS PhD student online journal.
Freelance story-telling and theatre practitioner, trained in Forum Theatre facilition by Cardboard Citizens