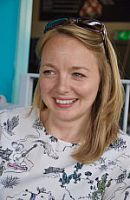 Dr
Lauren Greenwood
Biography
Since July 2017 I have been working as an Associate Film Producer for the twice Oscar nominated Emmy Award winning Spring Films' Development Department: www.springfilms.tv. My journey to Spring Films started at Sussex University with an MA in the Anthropology of Conflict, Violence and Conciliation (2005), followed by an ESRC funded MSc in Comparative and Cross-Cultural Research Methods (2007) and PhD on 'British Military Stabilisation Training and the Negotiation of Masculinity' (2013) where I concentrated on conceptions of civil-military cooperation and stabilisation in response to the war in Afghanistan.
During this time, I taught the Conflict, Violence and Peace: Critical Perspectives course (2015, 2016, receiving a Student-Led Teaching Award for 'Outstanding or Innovative Undergraduate Teaching') and Visual Anthropology course at Sussex (2018), as well as conducting research consultancy work - for the Overseas Development Institutes' Humanitarian Policy Group, the Danish Institute for International Studies, Conciliation Resources, and the European Union's INSPIRE Consortium. I also guest co-edited a special edition of the journal Critical Military Studies that focused on the Embodiment of Militarism, and contributed to the Palgrave International Handbook of Gender and the Military.
Turning to work with film was an important step for me to take my anthropological skills into a practical working environment. Being dyslexic, I found that my way of working was greatly enhanced by the visual panorama of creating meaningful images to connect with both academic and popular audiences through high-end blue-chip documentaries.
Qualifications
2013 - PhD, Anthropology (University of Sussex)
2007 - MSc, Comparative and Cross-Cultural Research Methods (University of Sussex)
2005 - MA, Anthropology of Conflict, Violence and Conciliation (University of Sussex)
2003 - BSc (Hons), Geography (University of Manchester)