Masterclasses
Bogolo Kenewendo (International Economics, 2012) came back to campus to speak to students about her time as the Botswanan Government's youngest minister at the age of 32.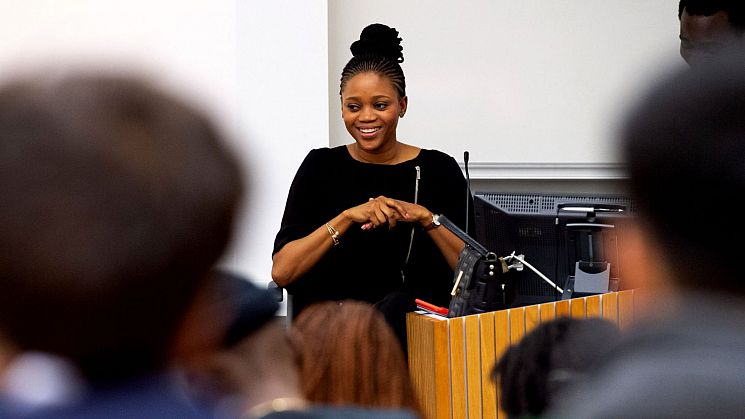 Bogolo Kenewendo, the Botswanan government's youngest minister at the age of 32, and a Sussex alumna, had some vital advice for students who came to hear her speak on campus. She was in the UK to conclude and sign on the trade agreement between the UK and Southern African Customs Union (SACU) & Mozambique. She took time out from her busy schedule to meet students as part of Black History Month.
In response to questions put to her by students, Bogolo described her memories of Sussex, her career ascent, and some of the challenges she had faced as a young female in a predominantly male, middle-aged work environment.
"I would meet some of my colleagues in the first months and I'd get, 'So you're the young, pretty minister I heard about?' One of my colleagues, who has now retired, would always correct people and say, 'No she is the young capable minister you heard about'. He always kept a balanced perspective of it."
She also related a story about how security officers who had been instructed to "meet Minister Kenewendo" off a plane initially refused to believe that she was the minister.
"Being young and female – I call it the 'double trouble' in female leadership roles," she said. "I've had several interactions with people who haven't believed that I am a government minister."
Bogolo came to study at Sussex after working as an economist and realising that there were few people in Botswana with the knowledge and experience to handle international trade negotiations.
She was encouraged by former president of Botswana and another Sussex alum, Festus Mogae. And in response to a question from a student about how to handle insecurities, she was unequivocal:
Lose your insecurities, they will not benefit you. I know it takes quite a lot because I was quite a shy child and I'm an introvert – you will not believe it – but every day you have to remind yourself why you are getting up. You will not have a reason to get out of bed if you allow your insecurities to take over."bogolo kenewendo
International economics 2012
If you would like to come and speak to students at Sussex in the form of a masterclass, please get in touch with our Development Manager, Mary Connolly at m.connolly@sussex.ac.uk.
Find out more