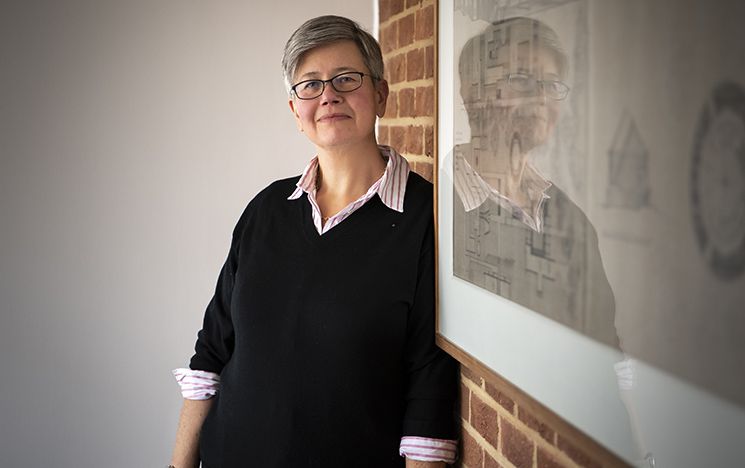 Q & A with the Vice-Chancellor
Professor Sasha Roseneil joined Sussex in August 2022 as our ninth Vice-Chancellor and the first woman to hold the post. With more than 30 years' experience as an academic, Professor Roseneil has developed an international reputation for her pioneering research on gender, sexuality, and intimate relationships, as well as on citizenship and social movements. Originally trained as a sociologist, and later as a group analyst and psychoanalytic psychotherapist, Sasha has played a leading role in establishing the interdisciplinary fields of Gender Studies and Psychosocial Studies.
What attracted you to Sussex?
I have held the University of Sussex in high esteem for over 40 years, and it is an incredible honour to have been appointed Vice-Chancellor of this great university. Back in the early 1980s, I applied to study at Sussex as an undergraduate for several reasons, including its ground-breaking interdisciplinarity, its reputation for radical politics and for having a lively lesbian and gay student community. I didn't take up my place to read History in the School of European Studies (as it was then) – choosing instead the city lights of London and the interdisciplinary social science BSc (Econ) degree at LSE. But throughout my academic life, Sussex has held an important place in my intellectual imagination.
I have followed the research and writing of dozens of brilliant Sussex academics, and have had the privilege of collaborating with some of them, of being invited to take part in conferences and seminars at Sussex, and to examine Sussex doctoral students. I have also worked alongside many amazing Sussex alumni in my previous jobs at the University of Leeds, at Birkbeck, University of London, at the University of Essex, and at UCL, and have been very aware of how their distinctively Sussex education shaped their innovative research trajectories.
Sussex has an impressive academic heritage, particularly in establishing new interdisciplinary fields of study. It is the radically global university that has been number one in the world for Development Studies for seven years running, that was the first to establish a unit dedicated to Science Policy research, and that is playing a unique role in advising governments about sustainability and energy policy. Sussex has had five Nobel prize-winners in its relatively short history and it played a pioneering role in the field of sexuality studies, with its unique and ground-breaking Masters programme in Sexual Dissidence. And Sussex has made a special contribution to the struggle against apartheid, with the first scholarships for students from South Africa dating back to 1973, and a long history of anti-racist and post-colonial scholarship.
All these features attracted me to the University – along with, I will admit, some lifestyle factors: a love of Brighton that dates back to childhood days out on the pier armed with a bag of pennies to feed the waterfall slot machines, a penchant for the city's fabulous vegetarian and vegan restaurants, and a passion for open-water swimming. I also love the Sussex Downs and the campus, and I am a huge Basil Spence fan. All-in-all, it is wonderful to be at Sussex.
And what are your long term ambitions for Sussex?
I want Sussex to be recognised internationally as a university that makes a unique, innovative, and transformative contribution to environmental sustainability and human flourishing through our research and enterprise, through our educational and extracurricular provision, and in our institutional life and actions.
This means Sussex becoming a university community in which all students and staff feel that they are in the best place to realise their goals and ambitions, where they can be themselves and do their best work, and in which diversity of background, identity, belief, thought, discipline, and method is understood to be fundamental to our sense of community and our success.
Where does the University of Sussex stand in relation to the principles of freedom of speech and academic freedom? How do these principles sit alongside commitments to equality, diversity and inclusion?
Sussex has, throughout its history, been animated by an exceptional and distinctive spirit of intellectual freedom and challenge and, simultaneously, by a profound commitment to advancing equality and social justice. Our commitment to academic freedom and freedom of speech is foundational. It is explicit in our Charter and Statutes, as well as being a legal and regulatory requirement of us as a university.
In the UK, we are living through a period of intense disagreement and polarisation about many political and cultural issues, amplified by social and traditional media. This plays out around dinner tables across the country, often with an intergenerational element to the arguments. Universities are vital spaces for public discourse where generations come together. They are places where existing bodies of knowledge are curated and transmitted to new learners, where fresh ways of thinking are forged and where, in the process, lives and worldviews are changed.
In thinking about these issues, I start from a recognition that the questions and problems of members of different groups in society are not the same, as power structures and inequalities shape people's interests and concerns – and I believe that it is the duty of universities to ensure that the most marginalised and disadvantaged members of society, and their interests and concerns, are properly included in the research and education they provide.
This demands institutional attention to power structures and inequalities, and to the creation of empathetic and supportive working and learning environments. It means caring about the emotional wellbeing of our students and ensuring that we do our best to prepare and support them as they encounter challenging topics and texts.
Sensitively facilitating discussion and exploration of divergent beliefs and ideas must be central to the work of the University, as is supporting the pedagogic decisions of academics about the texts and ideas they choose to teach, and how they choose to teach them. And this is fundamentally related to supporting our academics in their curiosity-driven research, enabling them to ask difficult questions, to go against the grain of current thinking and to create new knowledge. That is what Sussex has always been about, and we must continually recommit to the values and practices of academic freedom and freedom of speech, as well as to our determination to make Sussex a more equitable and inclusive university in which diversity of thought and people from different backgrounds thrive.
With a wide-ranging programme of events in the UK and overseas in your first year, you'll be meeting many of our alumni. What would you like to say to them?
Meeting with members of our global alumni community is one of the joys of the job! Alumni are our greatest ambassadors, they are the carriers of our institutional history, and I have already learnt a huge amount from talking to our former students about their time at Sussex. I have heard many of you say how Sussex inspired you to think more broadly and more deeply about the world. Your experiences at Sussex showed you that, not only must we discuss the great challenges of our time, but we must also work out what we can do collectively and individually to tackle those challenges.
Sussex graduates have a hunger to make things happen. Many of you are making a difference to your communities, locally, nationally and globally. Amongst you are CEOs of renewable energy suppliers, innovators in multinational tech companies, leading human rights campaigners, grassroots activists, heads of state and government ministers, and highly regarded thinkers, writers and creative practitioners in a wide range of media. And all of you are making a difference, re-creating the world through your everyday relationships, at work, and in your home lives.
You have taken forward your Sussex education to bring about change – and you are also helping current students and fellow alumni to benefit from this through your involvement with our mentoring and networking platform, Sussex Connect, and through your generous support of the Sussex Fund. I am tremendously grateful for your continued support.
Sussex has, throughout its history, been animated by an exceptional and distinctive spirit of intellectual freedom and challenge and, simultaneously, by a profound commitment to advancing equality and social justice."
Which life experiences have influenced your career most?
That's a really difficult question, because I think I draw on everything that I have learnt over the course of my life in my work today. In brief though, my research interests are rooted in my life experiences, as is the case for many sociologists and gender studies researchers. My research isn't about myself, but it has always been inspired by questions and concerns that I have felt matter, that are meaningful to me.
I wrote my PhD about Greenham Common having first visited Greenham at the age of 15, and then having left school to go to live there when I was 17 – because saving the world from nuclear war was vastly more important to me at that time than finishing my A-levels. My life was fundamentally changed by that decision, and I am who I am because of all that I learnt through living at Greenham and being part of that social movement of women.
Some years later, having resumed my more formal education, I realised, as I scoured the library at the LSE during my undergraduate studies, that no one had yet undertaken a systematic academic study and analysis of Greenham, and that I could and should do it. Greenham was where, as an isolated young lesbian and feminist, I found community, and encountered a rich array of ideas that I never otherwise would have done.
My undergraduate tutor advised me, in the context of the Thatcher government, that I was highly unlikely to secure funding for a PhD about Greenham Common. But I applied anyway, and amazingly (and I am still somewhat amazed) I was awarded a studentship by the Economic and Social Research Council. My passionate belief in curiosity-driven research, in intellectual diversity, academic freedom, and the need for universities to support researchers pursuing unfashionable lines of inquiry that challenge established ways of thinking dates back to my own somewhat paradoxical experience of receiving government funding to do a PhD about feminist challenges to the state.
My later work on the practices, politics and ethics of care and welfare, on changing forms of family and personal relationships, and my increasing interest in the domain of the psychosocial – the ways in which the social and the psychological, the personal and the political, the individual and the collective are fundamentally entangled – were also profoundly informed by my life experiences.
My parents divorced when I was eight, and my sister and I stayed living with our father, which was unusual in the late 1970s. Then, when I was 14, my dad had a stroke. He lost his ability to speak and could no longer work. We had to move house and adapt again to a very different world. Much later, when I was in my 30s, my mother had an accident and became tetraplegic. I worked part-time for a while to spend time with her and care for her. These experiences, along with the multiple strands of ethnic heritage in my complex family configuration, and a deep-rooted sense of sexual and gender outsider-ness and non-conformity in the hostile world of the 1980s, have undoubtedly shaped my abiding interest in difference and diversity, equality and inequality, inclusion and marginalisation.
These experiences, the emotional struggles they gave rise to, and the experiences I had trying to support friends and loved ones with their own psychological turbulence, fed into my decision at the age of 40, to train as a group analyst and psychoanalytic psychotherapist. The training involved a five year part-time clinical placement in an NHS Trust seeing individual patients and running psychotherapy groups, as well as running and reflecting on supervised non-clinical groups within the university I was working at. It gave me a powerful understanding of psychosocial processes and dynamics that became a vital part of my 'toolkit' as an academic and a university leader.
We all have complex lives and identities, and our working lives are inevitably impacted by who we are, our experiences at home and our personal relationships. I am passionately committed to enhancing the diversity of the whole Sussex community, and to ensuring that Sussex is a place that supports everyone to speak freely, to exercise their curiosity, to pursue their diverse intellectual passions, and, I hope, to flourish. This means paying particular attention to supporting those who have experienced marginalisation and exclusion, and who are facing challenging life circumstances.
Brighton is a city where those who have often felt on the edge of things elsewhere find a place where they can be included, and where they can have fun. It's a place of creativity, cultural innovation and community."
What are you most proud of in your career to date?
I find pride a difficult emotion to claim – both because it often conjures a sense of personal ownership, a possessive individualism rather than a spirit of the collective enterprise, and because we are warned that it comes before a fall. I am uncomfortable with owning a feeling of pride about the work that I have been involved in over the course of my career to date because everything I have done – even the most solitary of writing projects – has always sat within a nexus of relationships that have supported the work. But, if you press me, I will say that I am proud of having played a part in establishing, through my research, and institutionalising, through leadership work, two exciting interdisciplinary fields of study – Gender Studies and Psychosocial Studies. At the University of Leeds, I was the founding Director of the Centre for Interdisciplinary Gender Studies, which is still going strong 25 years later. At Birkbeck, I was a founding member and Head of the Department of the Department of Psychosocial Studies, and as Executive Dean at the University of Essex, I oversaw the transformation of the Centre for Psychoanalytic Studies into the Department of Psychosocial and Psychoanalytic Studies.
What was the focus of your PhD?
My PhD was a sociological study of the Greenham Common Women's Peace Camp. The peace camp was established in 1981, at the height of the Cold War under Ronald Reagan and Margaret Thatcher, to protest against the siting of nuclear missiles at a United States Airforce base in the south of England. I was interested in Greenham as an example of women's political agency, a social movement that mobilised tens of thousands of women from around the world, many of whom had not been politically active before and many of whom left their homes to live at the Camp, and who, in the process, experienced very significant personal transformation. The abiding question throughout my academic work has been about how social, political, cultural and personal change happens, and when I embarked on my PhD I wanted to understand the transformations in gender dynamics that Greenham had set in train, at the individual, societal and geo-political levels. I ended up publishing two books about Greenham aimed at different audiences: Disarming Patriarchy: feminism and political action at Greenham (Open University Press, 1995), which was a sociological approach to Greenham as a social movement, and Common Women, Uncommon Practices: the queer feminisms of Greenham (Cassell/ Bloomsbury Press, 2000), which explored Greenham through the lens of its feminist politics and sought to tell the stories of the women whose lives had been changed through their involvement with Greenham.
---
Quickfire questions
Best thing about Brighton?
So many things – but if I had to choose one thing, it's that Brighton is a city where those who have often felt on the edge of things elsewhere find a place where they can be included, and where they can have fun. It's a place of creativity, cultural innovation and community.
What do you do to unwind outside work?
I spend time with Nina, my wife, and try not to talk about work too much. I swim outdoors, most days. I walk Misha, the beautiful and highly opinionated standard poodle who shares our home. I cook. I hang out with friends (not enough).
Favourite place on campus?
It has to be Basil Spence's stunning Meeting House. It sits at the heart of the Sussex campus – and in many ways, it is the heart and soul of the campus. The Meeting House is one of the most perfectly conceptualised and realised university buildings in the world – a non-denominational, for-all-faiths-and-nonspiritual communal space. The circular structure, constructed from a honeycomb assemblage of individual concrete blocks, and the beautiful play of light through the multi-coloured rainbow of glass windows, offers Sussex a metaphor for thinking and acting differently: the University as an open and hospitable forum for the meeting of individual minds, for dialogue between equals, bringing those on the margins into the circle of shared space. Every time I walk into the Meeting House, I reconnect with aspects of our collective higher purpose, our mission as a university to bring people together, across the differences that too often divide us from each other.
What qualities do you admire most in other people?
Compassion, imagination, and rigour. The ability to understand the world from different perspectives, to place our shared humanity at the centre of everything, and to provide careful, systematic analysis and a well-grounded challenge to established practices and taken-for-granted ideas.
What is the best piece of advice you've received?
From my mum: 'Think before you speak'. She often said that to me. I try hard to remember it, but don't always.
Favourite book / music / film?
Virginia Woolf's A Room of One's Own had a huge impact on me when I read it when I was 16 – and indeed absolutely everything by Virginia Woolf, Three Guineas, Mrs Dalloway, To the Lighthouse.
Dory Previn's Mythical Kings and Iguanas – because it reminds me of my mum, who loved Dory Previn, and Mahler's Symphony No. 5 – because it reminds me of my dad, who introduced me to Mahler and with whom I used to listen to Leonard Bernstein's Vienna Philharmonic recording after he lost his speech.
On our most recent 'date night', Nina and I saw Close, a beautiful, tragic Belgian film about the intense and loving relationship between two adolescent boys, which is torn apart by homophobic innuendo. The acting is superb, and the story heart-breaking. It reminds us how vulnerable we all are to the social norms and cultural expectations of our peer group, and how hard it can be to resist them and to stay true to ourselves and those we love.
---
You might also be interested in: