Items from Sussex in 60 objects.CLOCKWISE FROM LEFT: A painting by Bert Kitchen, presented to Sussex in 1969 for winning University Challenge; John Upton's 1967 painting Christ's Entry into Brighton; a model of Buckminsterfullerene
60 years of Sussex
Our 60th anniversary celebrations brought back great memories for our alumni and gave them plenty to think about for the future.
Sussex's 60th anniversary year in 2021-22 had something wonderful for everyone. We celebrated our past, our present and our future. And we looked inside our community and outwards globally as we acknowledged everything that's great about our university.
The major event of the year was, in fact, the finale – our Alumni Anniversary Weekend – when more than 400 former students were welcomed back to campus for three days of festivities at the start of September 2022.
They heard Vice-Chancellor Professor Sasha Roseneil praise the University for being "authentic, courageous… sometimes outrageous," during its six decades of history. Her words, spoken during her first speech as Sussex's VC in a grand marquee outside Attenborough Centre for the Creative Arts (ACCA), were echoed by those who had come to relive their student days and to compare notes with later generations.
They spoke nostalgically about the "buzz" of Sussex, of being at Sussex in the 1970s "when it was still pretty radical", of feeling as though they were "the golden generation", and of having "a bang up helluva good time!"
Many of them stayed in our comfortable new East Slope residences, which are a far cry from the former warren of flats that used to hug the hillside (even though they're still fondly remembered).

Plenty of activities were laid on for their enjoyment, including a series of TEDx-style talks by current academics on subjects such as how bees decide which flowers to visit and how our smart fridge might become an 'informer', tours of campus buildings old and new, a night of partying to a live band in Mandela Hall and an interfaith service in our stunning Meeting House. View photos from the weekend on the Flickr website.
They were also treated to a virtual and actual heritage trail with our Sussex in 60 objects web pages and temporary exhibition.
The fun project involved a selection of objects that exemplified the University's history and culture as suggested by current and former staff and students. They included a photo of 'blue milk' (by a former student after she found blue food dye a useful deterrent against milk stealers in Park Village); various ceremonial artefacts – such as the mace and the Chancellor's chair – and some of the outlandish artwork on campus, including John Upton's 1967 painting Christ's Entry into Brighton.
60 years of Sussex anniversary weekend
Reunion weekend video transcript

[Intro MUSIC: Fast paced indie rock]

[Video footage of University of Sussex campus in the 1960's and 1970's inside a 60 graphic cutout]

Alum 1: I was here in the Sixties.

Student 2: We came in the Seventies when it was still pretty radical.

[Camera shutter noise with photos of University of Sussex campus in the 1960's and 1970's]

Student 3: We were very lucky of how we lived university life.

Student 4: We were the golden generation.

Student 5: Just a bang up, hell of a good time.

Student 6: It's really lovely to be celebrating 60 years.

Student 7: This is the first time I've been here in 40 years.

Student 8: It's actually been really lovely.

Student 9: It is fantastic to be here.

Student 10: You do feel kind of a nostalgia.

Student 1: Just bumping into people, I remember or people who remember me is really nice and feel the community connection with Sussex.

Student 11: We haven't seen each other in nearly 30 years. It was like no time had ever passed. It's been really, really good.

Student 12: It was a very exciting place to live and it's still a very exciting place to be.

Student 13: It's really nice to be back here. There's a real buzz.

Student 14: I'm looking forward to getting on the dance floor later on. [Laughs]

Student 15: Thank you Sussex University.

[TITLE CARD 'Making memories']

Student 16: Between you and me, I don't know how I survived the Sixties, honestly.

[END CARD. University of Sussex logo]
The anniversary year kicked off with a future focus. At our Better World event in October 2021, some of our brilliant researchers and alumni told a packed auditorium at ACCA how their work was influencing positive change, from tackling the climate crisis to creating sustainable plastic alternatives from fish waste.
We also held two "Ask the Experts" live webinars and podcasts featuring panels of our academic authorities and external speakers on consciousness and kindness, which were chaired by Sussex alumna and BBC broadcaster, Claudia Hammond (Psychology 1990).
Nobel Laureate and former member of staff, Sir Paul Nurse, spontaneously enthused, "I love Sussex!"

We took more of our research heroes out of their science labs and into the House of Commons for the Sussex Parliamentary Reception. Attendees included the Nobel Laureate and former member of staff, Sir Paul Nurse, who spontaneously enthused, "I love Sussex!"
Another of our Nobel Laureates, the late Professor Sir Harry Kroto, was especially honoured during our anniversary year. A blue plaque was erected on campus by the Chemistry Society in recognition of Professor Kroto's involvement in discovering a form of carbon (the C60 molecule – or Buckminsterfullerene) that has led to a wide range of innovations in industry, from healthcare to construction.
We also celebrated off campus with our international alumni. Events, such as a walking tour in Rome led by Emeritus Professor of Art History, Maurice Howard, with a reception at the Cappella Orsini, and an alumni reception in Paris at the Cercle de l'Union Interalliée hosted by Dr Robert Gillespie of Blackhall OBE (Mechanical Engineering 1967), gave our European graduates an opportunity to reconnect.
Meanwhile, online and in-person reunions in Nigeria, Ghana, USA and China were kindly organised by our alumni volunteers and partners.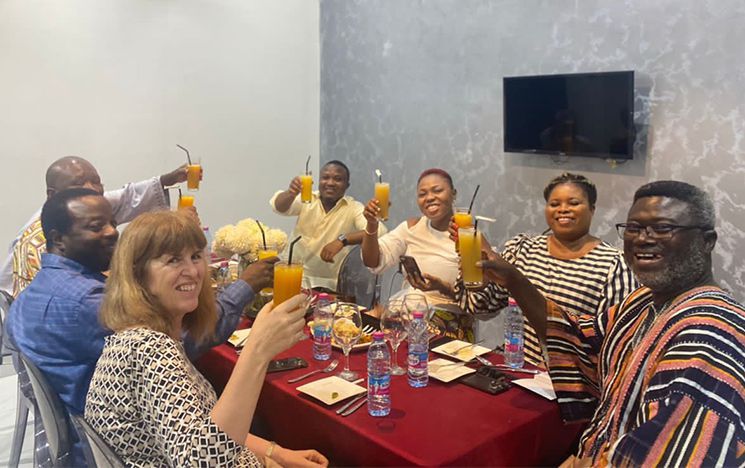 Alumni gathering in Ghana, kindly hosted by volunteer Alumni Consul Dr Ronald Adamtey
Our Sussex community has been reminded this year that, in addition to providing a high quality education and student experience, our ambition is to become one of the world's most sustainable universities. We are already on that path. Our Sustainable Sussex strategy was launched in 2021. It incorporates our Big Biodiversity Conversation, in which we have invited our community to suggest and initiate planet-saving projects.
What's more, our strategy is working. In 2022, we were named third in the UK for sustainable institutions (QS Sustainability Rankings) and 55th in the world.
As we look to Sussex's future, we can be proud of where we have come from and where we are going.
More on our history and sustainability aims
---
You might also be interested in: