Latest staff news
Latest information and guidance: 14 January 2022
Posted on behalf of: Internal Communications
Last updated: Monday, 17 January 2022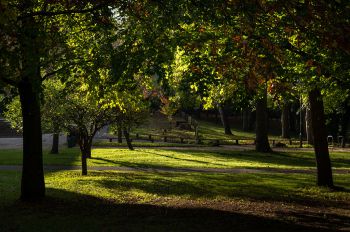 If you are coming onto campus, get tested - get jabbed
If you are coming onto campus you must take one self-test at home either the evening or morning before returning in January, then continue to test twice weekly at home.
To make vaccinations easier, we're hosting a pop-up clinic for those of you who are already on campus on Monday 17 January between 11am and 4pm. The Mobile Vaccination Unit will be stationed outside Pevensey 1 opposite the Meeting House (see map), and it will offer first, second and booster doses. No booking required.
Updated Government Covid-19 guidance
The Government has introduced Plan B in response to cases of the Omicron Coronavirus variant.
This includes wearing face coverings in most public spaces and working from home if you are not required to work on campus.
This week the Government announced several changes to its Covid-19 guidance which come into effect next week:
New rules mean that individuals who test positive will be able to leave self-isolation after a further five full days, subject to having two negative lateral flow results 24 hours apart.
The day symptoms begin or you test positive is day zero.
The following day is day one of your isolation period.
You can take your first test on day five.
If it is negative, you can take another test 24 hours later on day six.
Assuming this is also negative - and you do not have a temperature - you can leave isolation immediately. These rules apply to both vaccinated and unvaccinated individuals.

From Wednesday 19 January:


Over-18s will be able to access a booster jab via walk-in slots and through a new booking system.
---
A brief reminder of some other important Covid-19 information...


Local walk-in booster clinics
Walk-in vaccination sessions are taking place in the local area. Please check the details of the service if you are looking for your booster. See the Keep Sussex Safe pages for more information.
Updating your vaccination status
One of the best ways we can help keep each other safe at Sussex is by updating your vaccination status by logging in to the MyView system. With Covid-19 case numbers on the increase, please take the time to make the University aware if you have received your booster. Find out more about how your vaccination status information is managed.
Collecting test kits on campus
Lateral Flow test kits remain available for collection from 17 locations across campus.
Recent updates to travel guidance
Recent updates to Government Covid-19 guidance relating to travel:
Your wellbeing
Please remember that the University's Employee Assistance Programme partners, Health Assured, offer a comprehensive service for Sussex staff and an evidence-based app providing tools and support to improve mental wellbeing. Their confidential helpline provides urgent support to staff 24 hours a day, seven days a week: 0800 316 9337.
Please take some time to consider the range of webinars hosted by Health Assured (using access code: worklife and password: worklife). The 'Coping with change' session, offering practical measures we can put in place to help us cope with change in our lives, may be of particular interest at this time.
Working under the current circumstances can throw up challenges as Covid-19 continues to influence our lives, so please remember that University's wellbeing hub offers many tools and resources to look after your mental, physical and financial wellbeing.
(Click image below to view content)