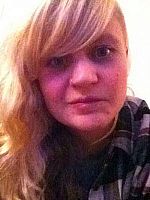 Mx
Kate Meakin
Biography
Working PhD project title: Feminist dystopian fiction and UK activism in an era of neoliberalism
This project is investigating the relationship(s) between contemporary social movements in the UK and feminist, dystopian and utopian worlds depicted in fictional television and film. Following the economic crash in 2008-9, we witnessed a global increase in political activism advocating for social change. At the same time, dystopian fiction has become increasingly popular with depictions often revolving around a leading woman rebelling against an oppressive regime. Feminist dystopian fiction has been particularly noted for its potential to critique corrupt and oppressive governments and societies. Studies have examined the importance of social movements and the popularity of dystopian fiction but little research has looked at possible connections between the two. This project will consider both the influence of activism and political movements on themes of resistance in dystopian fiction and the impact of dystopian imagery on activists in contemporary movements. I will look at historical archives on social movements from the '70s onwards, particularly focusing on political action on representation, and conduct interviews with those involved in feminist, queer, anti-racist, anti-fascist and/or anti-austerity contemporary activism primarily from the Brighton and London areas. I will also look into social movement's educational resources, both on blogs, websites and printed literature. I will combine this with an analysis of recent dystopian fiction to consider how narrative themes relate to historical political movements and how contemporary activists connect their activism to popular media. Utilising a discursive approach on biopower and necropolitics, social movement theory on framing and emotional responses, and feminist and queer theories on affect, resistance and the posthuman, I will analyse how far dystopian visual fiction can be used to criticise government control and if themes of resistance can be, or have been, re-appropriated by activists to challenge prevailing discourses of neoliberalism.
Supervisors: Sue Thornham and Katherine Farrimond
Role
Doctoral Researcher and Associate Tutor
Qualifications
2017-Present - PhD Student in Gender Studies (Humanities) in Media, Film and Music at the University of Sussex
2016 - MAST Mental Health Awareness & Safeguarding Training
2012-2014 - Gender and Women's Studies, Joint European Masters of Excellence at University of Hull with two terms at Central European University: Distinction
2008-2012 - American Studies (BA) Undergraduate Degree: 2:1 with a year abroad at the University of Washington: 1st
Academic Achievements
2018-2020 - AHRC CHASE Doctoral Studentship Award
2015 - Prize for the Best Social Sciences Postgraduate Dissertation, University of Hull
2014 - Outstanding Academic Achievement Award, Central European University
Activities
2018 - The Society of Utopian Studies Annual Conference, UC Berkeley, USA
"Reproduction and parenting in a dystopian future: (hi)stories evoked and omitted by The Handmaid's Tale"
2018 - Utopian Acts, Birkbeck University, UK
"The Ambiguous Role of Utopia in Left Social Movements: Reclaiming Utopian Activism in the UK and Beyond"
2018 - Movements: Protest, Politics and Activism in the 21st Century, Nottingham Contemporary University, UK
"Airport Actions, Anti-Racist Activism and Afrofuturism: connections between UK Political Activism and Dystopian Fiction in Resisting Racism and Climate Change"
2018 - Challenging Approaches to Progress in North America, Freie University Berlin, Germany
"The Indeterminate Future of Reproductive Rights: Challenges to Narratives of Progress in The Handmaid's Tale"
2018 - UK Student Movement Research Project 1st Symposium, University of Sussex, UK.
"Young Political Activists Encounter Punitive Neoliberalism: Counter-terrorism Powers During the 2010 Student Protests"
2015 - Orange is the New Black and New Perspectives on the Women in Prison Genre, Edinburgh Napier University, UK. "Exploring Lived Realities of the Gender Abject in US Women's Prisons: Sophia Burset as Body that Matters"