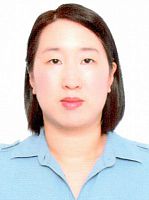 Miss
Pattraporn Chuenglertsiri
Biography
Pattraporn is a doctoral researcher in Migration Studies and a recipient of 2016 Chancellor's International Research Scholarship. Her proposed research title is "Transnationalism, Family life, and Wellbeing: Opportunities and Challenges Facing Thai-British Families in the UK". The project focuses on lived experiences of Thai-British couples in the UK and how transnationalism has effects on their daily and family lives as mixed couples.
Pattraporn has educational background in international relations and gender studies. She also has professional experience in working on transnational migration, gender issues and marginalised population. Her past experiences include; co-writer of UNESCO Bangkok's "Gender, Environment, Energy Technologies and Climate Change" report and conducting a research on marginalised groups in Thailand with Chulalongkorn University Social Research Institute (Thailand) and UNDP.
Pattraporn is currently taking study leave from Institute of Population and Social Research (IPSR), Mahidol University, Thailand. While at IPSR, among other tasks, she took part in a research project called, "Transnational Migration in Transition: transformative Characteristics of Temporary Mobility of People (EURA-NET)" which was funded by The European Commission. The project investigates patterns and practices of transnational mobility of people between Asian and European countries.
Qualifications
2016- Ph.D. research student in Migration Studies
2010-2012 M.Sc. Social Studies of Gender (Political Science Major), Lund University, Sweden
Graduate thesis (Distinction) on "Women's Transnational Identities and Belonging: The Case of Thai Female Immigrants in Sweden"
2005-2009 B.A. (1st class honours) Political Science (International Relations Major) Chulalongkorn University, Thailand