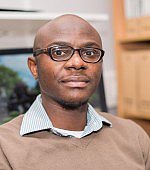 Mr
Tunde Alabi-Hundeyin
Biography
I am a media creative with over a decade's experience in the production of social change photo & film documentaries. I have worked in Africa and Europe and executed quite a number of media projects for NGOs and corporate organisations. Some of these projects have been broadcast, published online and in traditional media.
Others have also been screened and displayed at various exhibitions including, Utopia exhibition at the United Nations Population conference (2019) in New York, USA, and in Brighton UK in 2018 & 2019; One World Week 2017 & 2018, Brighton, UK; the Black Birds Film Festival 2016, Brighton, UK; Sichtwechsel (Change of view) African Cities Foto Exhibition 2014, Germany; Lagos Photo Festival 2014, Lagos; Life In My City Arts Festival 2012, Enugu; Addis Foto Festival 2012, Addis Ababa, Ethiopia. In 2012, my work was selected from 31,400 photos from 120 countries and was featured on TIME Magazine cover, 27 August edition. My film documentary, Nigeria Rocks, was screened at the United Nations General Assembly 2005. Most recently, my photos were used in UNICEF Nigeria advocacy materials.
I am a recipient of the University of Sussex 2017/18 Chancellor's International Research Scholarship (CIRS) to study for my Ph.D.
Role
Doctoral Researcher (Media & Film)
Qualifications
PhD. (In view) Creative & Critical Practice, University of Sussex, UK
M.A. - Media Practice for Development & Social Change, University of Sussex, UK (with Distinction), 2016
B.A. (Hons) - Communication & Language Arts, University of Ibadan, Nigeria (Second Class Upper), 2004