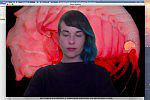 Ms
Kaitlyn Marie Braybrooke
Biography
Kat is a digital anthropologist, curator and maker [codekat.net] whose work examines the effects and implications of digital making practices, in particular the tensions between grassroots communities and institutions; she is a co-founder of the Open Design and Hardware Network and for the past decade worked for a variety of cause-based organisations including Mozilla, the Open Knowledge Foundation and Open Media to empower marginalized users of the web.
In 2011, Kat received a MSc Digital Anthropology (Distinction) at UCL for an ethnography of gender and identity issues amongst 30 Millennial-aged hackers across Europe. Her doctoral research, funded by the Sussex Humanities Lab, in collaboration with the Tate and supervised by Dr Tim Jordan, Dr Caroline Bassett and Dr Rebecca Sinker, builds on this work by exploring user experiences and power dynamics at shared machine shops (public workshops with digital tools and mentors to help people make things) as they open within large cultural institutions in London.
Combining historiographies of hacking-as-practice and shared machine shop communities in the U.K. with empirical data, and working from Doreen Massey's theory of space as power-geometry, 'collections makerspaces' are introduced as fourth-wave exemplars of the shared machine shop canon through a researcher-in-residence ethnography conducted at three such sites situated within the Tate Britain, the British Museum and the Wellcome Collection.
To get in touch, find Kat on Twitter or email k.braybrooke@sussex.ac.uk.
Selected talks

Panel presentation: Power geometries in new territories, AoIR 2017, Estonia
Panel presentation: Who is the digital revolution for?, Brighton Digital Festival
Guest lecture: From theory to making, Royal College of Art
Panel presentation: Whose industrial revolution? 4S/EASST Barcelona
Talk: Two of many futures of making, Maker Assembly Northern Ireland
Guest lecture: Open source in the gallery, University of the Arts London
Panel presentation: From mechanical arts to making, SHOT Singapore
Guest lecture: Hacking the gallery, University of Victoria Canada
Roundtable: Digital/ physical spaces, SPRU, University of Sussex
Role
Doctoral Researcher, Sussex Humanities Lab Scholarship | University of Sussex | 2015-current
Editorial Board, Journal of Peer Production | 2017-current
Visiting Lecturer (Project Course Convener), RCA | Design Products | Food + Code | 2015-2017
Researcher in Residence, Digital Studio | Tate Britain | 2016-2017
Qualifications
2015-2019: PhD Media and Cultural Studies (In Progress), University of Sussex, UK.
2010-2011: MSc Digital Anthropology (Distinction), University College London, UK.
2008-2009: Next Up Leadership Fellow, Canadian Centre for Policy Alternatives, Canada.
2004-2009: BA Political Science, University of British Columbia, Canada.
2005-2007: AA Peace and Conflict Studies, Langara College, Canada.