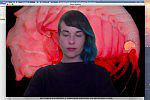 Ms
Kaitlyn Marie Braybrooke
Biography
Kat is a maker and researcher [codekat.net] who builds open technologies and curricula aimed at empowering underserved users. She has worked with a wide variety of collaborators including Mozilla, the Open Knowledge Foundation, Open Media and UK Parliament, is a co-founder of the Open Design and Hardware Network and an active participant in F/LOSS (Free, Libre, Open Source Software) communities worldwide.
In 2011, Kat received a MSc Digital Anthropology (Distinction) from UCL for a qualitative study which looked at gender concerns for 30 European F/LOSS hackers under the age of 30. Her doctoral project, funded by the Sussex Humanities Lab, in collaboration with the Tate and supervised by Dr Tim Jordan, Dr Caroline Bassett and Dr Rebecca Sinker, builds on this work.
Moving from users to their interactions, this project explores a new wave of institutionalized shared machine shops in London (called makerspaces, digital studios and labs) as they open within large cultural institutions, giving participants unprecedented access to low-fi and high-fi digital making and learning opportunities.
At each site, experimental peer-to-peer and hands-on learning pedagogies are employed by staff through free, open workshops which use cultural archives, collections and artifacts to inspire participants to engage with their own cultural heritage in new ways through digital tools, creativity, making and play. But are these interactions truly emancipatory? Implementing Doreen Massey's conception of space as a "meeting-up of histories", a product of interrelations under construction (2005), this doctoral project implements hands-on action research, critical making and ethnographic methods to explore site-based experiences at the Tate, the British Museum and the Wellcome Collection through the following research questions:
First, what are the social, cultural and political ecosystems of space at sites for digital making and learning as they emerge at cultural heritage institutions in London? Second, how might the unique circumstances of this institutionalization of digital making, hacking and learning practices effect user conditions of participation, access, power, heritage and ownership?
To get in touch, find Kat on Twitter or email k.braybrooke@sussex.ac.uk.
Role
Doctoral Researcher, Sussex Humanities Lab Scholarship, University of Sussex
Visiting Lecturer, Food+Code Course, Design Products MA, Royal College of Art
Editorial Board, Journal of Peer Production
Qualifications
2015-2019: PhD Media and Cultural Studies (In Progress), University of Sussex, UK.
2010-2011: MSc Digital Anthropology (Distinction), University College London, UK.
2008-2009: Next Up Leadership Fellow, Canadian Centre for Policy Alternatives, Canada.
2004-2009: BA Political Science, University of British Columbia, Canada.
2005-2007: AA Peace and Conflict Studies, Langara College, Canada.