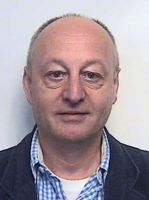 Prof
Tim Jordan
Post:
Head of Department (School of Media, Film and Music)
Other posts:
Professor of Digital Cultures (Media and Film)
Head of Department Media, Cultural Studies & Journalism (School of Media, Film and Music)
Head of School (School of Media, Film and Music)
Location:
SILVERSTONE SB 312
Email:
T.R.Jordan@sussex.ac.uk

Telephone numbers
Internal:
8298
UK:
01273 678298
International:
+44 1273 678298
download vCarddownload vCard to your mobile
Biography
Tim Jordan is a Professor and Head of School of Media, Film and Music at Sussex University.
Tim has been involved in analysis of the social and cultural meaning of the internet and cyberspace since the mid-1990s. He is currently working on a book for Pluto Press on the politics of information and on the idea of 'being in the zone' among surfers and computer programmers. His recent work has been about communication and the internet, published in Internet, Society, Culture; communicative practices before and after the internet (Bloomsbury 2013) and he has previously published: Hacking: digital media and technological determinism (Polity 2008), Cyberpower (Routledge 1999) and, with Paul Taylor, Hacktivism and Cyberwars (Routledge 2004).
Tim has also played a role in analysing social movements and popular protest with publications including Activism!: direct action, hacktivism and the future of society (Reaktion 2002), as co-editor of Storming the Millennium (Lawrence and Wishart1999, with Adam Lent) and as a founding editor of the Taylor and Francis journal Social Movement Studies.
In addition to his books on social movements and internet cultures, Tim has published on Pokemon, surfing and technology and cultural theory. Tim began work at the University of Sussex in 2014.. Prior to this Tim worked at King's College London for three years and at Sociology at the Open University for eleven years, contributing widely to teaching and co-editing the books Security: sociology and the making of social worlds (Manchester University Press 2008, with Simon Carter and Sophie Watson) and Social Change (Blackwell 2002, with Steve Pile).
Tim has been Head of the Department of Culture, Media and Creative Industries at King's College London and of the Department of Sociology at the Open University. Tim's work has been translated into seven languages.
Role
Professor and Head of School of Media, Film and Music