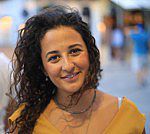 Dr
Idil Akinci
Biography
After having lived and worked in the field of communications consultancy in the United Arab Emirates, I moved to the UK to undertake my MA in Sociology from City, University of London. Awarded distinction, my MA thesis looked at the understandings of identity and belonging among second generation South Asian migrants in Dubai.
My PhD project, funded by Chancellor's International Research Scholarship at the University of Sussex, follows my MA research, focusing on the issues of national identity, citizenship and belonging both among Emirati citizens of Dubai and second generation Arab migrants in Dubai, originating from various parts of the Middle East and North Africa.
Role
Doctoral Researcher Sussex Centre for Migration Research
Qualifications
2012-2013 MA in Sociology, City, University of London
2004-2008 BA in Public Relations, Faculty of Communication, University of Ankara, Turkey
Activities
Publications
Akinci, I. (2016). Impossible Citizens: Dubai's Indian Diaspora N. Vora Durham and London: Duke University Press, 2013. xi + 245 pp, illustrations, index, ISBN 978-0822353935. US$24.95 (Pb.). The Australian Journal of Anthropology, 27(1), pp.131-132.
Akinci, I. (2016). Migrant Dubai: low wage workers and the construction of a global city. Ethnic and Racial Studies, 40(8), pp.1341-1343.
Conference Paper Presentations
June 2017: "A case study of belonging: Second generation non-Gulf Arab migrants in Dubai", University of London, 6th Annual Migration Conference
May 2017: "A study of national identity construction in the Emirates", West Asia Workshop, University of Sussex
May 2017: "A different kind of refugee: A case study of the Emirates' second-generation Syrian migrants seeking citizenship in Europe", 17th Doha Forum, organized by the Foreign Ministry of Qatar
November 2016: "Politics of Belonging' in the cosmopolitan Persian Gulf: Narratives of national identity among Emirati citizens", Migration at a Turbulent World, Doha Institute, Qatar
November 2016: MESA Conference, Boston, USA
June 2015: "Experiences from the field in the Gulf: A study of Dubai's second generation residents", Researching the Middle East Conference, Exeter University
Aug 2014: "Young South Asian Migrants' Experiences in Dubai", WOCMES Annual Conference, METU, Ankara, Turkey
June 2014: "Identity and belonging among second generation South Asian immigrants in Dubai", BRISMES Annual Conference, Sussex University