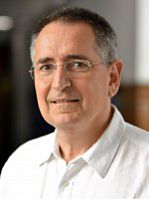 Prof
Tim Hitchcock
Post:
Professor Of Digital History (History)
Other posts:
Director (Sussex Humanities Lab)
Professor of Digital History (Data Intensive Science Centre at the University of Sussex)
Location:
ARTS A A136
Email:
T.Hitchcock@sussex.ac.uk
Personal homepage:
About.me

Telephone numbers
Internal:
8880
UK:
01273 678880
International:
+44 1273 678880

Research expertise:
download vCarddownload vCard to your mobile
Biography
Tim Hitchcock has published widely on the histories of gender, sexuality and poverty focussed primarily on eighteenth-century London. With Professor Robert Shoemaker and others he has also created a series of websites helping to give direct public access to 37 billion words of primary sources evidencing the history of Britain. Designed to underpin the writing of a new 'history from below', these sites include: The Old Bailey Online, 1674 to 1913 (www.oldbaileyonline.org); London Lives, 1690-1800 (www.londonlives.org); Locating London's Past (www.locatinglondon.org); Connected Histories (www.connectedhistories.org); and The Digital Panopticon: The Global Impact of London Punishments, 1780-1925 (www.digitalpanopticon.org). He is currently Co-I on two AHRC funded projects: BBC Connected Histories; and Small Bills and Petty Finance - co-creating the history of the poor law.
Jointly with Robert Shoemaker, in 2011 he was given the History Today, Trustees' Award for his contribution to historical research. Hitchcock was a founding member of the AHRC Advisory Board and Peer Review College, and is a member and past chair of the AHRC's Digital Transformations Advisory Group. He also sits on the British Library's Advisory Council.
Hitchcock's first degree was from the University of California at Berkeley (1980) and his DPhil from the University of Oxford (1985). He began his academic career at the then Polytechnic of North London, where he taught early modern social history and humanities computing from 1989 onwards, serving as Head of the History group from 1992. In 1997 he was appointed Reader in Eighteenth Century History at the University of Hertfordshire, where he served as Associate Dean (Research) for Humanities and Education, and from 2003, as founding director of the Social Science Arts and Humanities Research Institute (SSAHRI). He was awarded a Professorship in Eighteenth-Century History in 2001; and was appointed Professor of Digital History at the University of Sussex in 2013; co-director of the Sussex Humanities Lab in 2015. He has served as Director of the SHL since 2019.
Role
Professor of Digital History and Director of the Sussex Humanities Lab