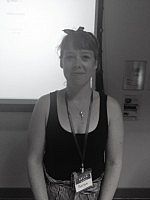 Ms
Sarah Fitzgerald
Biography
My PhD research aims to test whether Processibility Theory can account for the features of pidgin-creole languages using a typological, corpus based, investigation of Cameroon Pidgin English. Over the past five years I have worked on a number of research projects focused on corpus building and typology in relation to African languages at the University of Sussex and at SOAS. I am also very interested in how technology can be used in linguistic research and undertook a three month placement at the British Library during the summer of 2018, working with the digital scholarship team to create visualisations of the metadata on their Endangered Archives programme.
Publications
Ozón, Gabriel; Sarah FitzGerald and Melanie Green 2019. The tagged corpus of Cameroon Pidgin English: Addressing a coverage gap in African Englishes. In Esimaje, Alexandra; Gut, Ulrike and Antia, Bassey (eds.) Corpus Linguistics and African Englishes. Amsterdam: John Benjamins
Ozón, Gabriel, Miriam Ayafor, Melanie Green & Sarah FitzGerald 2017. A spoken corpus of Cameroon Pidgin English. World Englishes 36 (3), 427-447.
Reviews
FitzGerald, Sarah 2018. Review: Jason Kandybowicz &Harold Torrence (eds.), Africa's endangered languages: Documentary and theoretical approaches. Oxford: Oxford University Press. Journal of Linguistics. Available online https://www.cambridge.org/core/journals/journal-of-linguistics.
Role
Research student (Linguistics)
Qualifications
PhD, University of Sussex 2017 - present. Title: Evaluating Processability Theory as an explanation for creole features: a corpus-based case study of Cameroon Pidgin English. Funded by CHASE, the Consortium for Humanities and the Arts in the South East (AHRC Doctoral Training Partnership) supervised by Dr Melanie Green
MA in linguistics, SOAS, 2016-2017: Distinction
BA (Hons) in English Language and Linguistics, University of Sussex, 2013-2016: First class