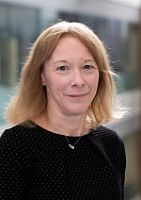 Ms
Susan Smith
Role
Susan Smith is Associate Dean (Education and Students) at the University of Sussex Business School.
She is a Fellow of the Institute of Chartered Accountants in England and Wales with a LLB in Law from The University of Edinburgh. Susan is an elected member of the ICAEW Council representing the South East and member of the ICAEW Ethical Standards Committee placing her at the forefront of strategic decisions within the profession.
Additionally, Susan is a director of the Chartered Accountants Trustees Limited, which manages the ICAEW charitable trusts spanning a variety of areas of educational activity including providing bursaries and funding research. She is also a member of the ICAEW Academia and Education Community Advisory Board.
Recently she was a member of the Chartered ABS working party that developed the Certified Management and Business Educator designation leading to a successful launch in 2019 and is committed to supporting quality practice across the sector.
She is a CMBE and Senior Fellow of the HEA. At the 2019 University Education Awards Susan was delighted to win a Learning Together award along with students Andrew Donald and Yuki Kikuri.