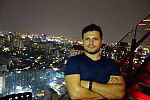 Mr
Emre Senbabaoglu
Biography
Emre graduated from the Department of International Relations, Faculty of Political Sciences, Ankara University in Turkey, one of the most well-known and leading universities in Turkey in the field of social sciences, in 2009; right after the graduation, he completed his military service and started working as a civil servant under the EU Affairs and Foreign Relations Department, the Turkish Ministry of Interior for 11 months between January 2012 - November 2012, by means of which he had so many opportunities to prove his skills in international relations, taking leading roles within international meetings on EU Acquis and its adaption in Turkish Law, as well as Turkey's EU membership process. During his term of office, he applied and won the scholarship from the Turkish Ministry of National Education.
He is a student taking part in the YLSY Project now. The aim of this project is to further educate successful students nationwide at prestigious colleges abroad. Within this framework, he completed LL.M. in International Law from the University of Sussex with Merit (67%) between 2014-2015, writing a dissertation named "Jus in Bello Violations and the Responsibility to Protect in Syria", which was supervised by Dr. Michael Kearney.
In January 2017, he started his PhD degree at the University of Sussex. His research focuses on "the Right to Self-Defence against Non-State Actors under the Unwilling or Unable Doctrine".
Role
Research student (Law)