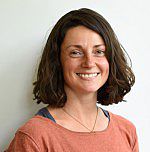 Ms
Elise Wach
Role
Elise Wach is a research advisor focusing on food systems, with an interest in how to transition toward more ecological and socially just ways of producing and consuming food.
Elise's work integrates concepts from Participatory Action Research, political ecology and complex systems thinking. She has a background in environmental and social sciences as well as experience as a practitioner in community development and farming. Key themes within her portfolio of research include access to and management of land, alternative market and economic systems, democratic and deliberative processes for decision making, and knowledge sharing institutions and practices.
Her current initiatives include participatory systemic research led by small-scale farmers to identify pathways for realising more regenerative food systems in the UK, Nicaragua and Senegal. She is also engaged in a project that brings together diverse stakeholders transition towards a more sustainable food system in Brighton and Hove. Her PhD research examines the potentials for agroecology and food sovereignty in the uplands of Scotland. She has also researched the impact of seed systems on outcomes and agency (or 'sovereignty') for small-scale farmers.
Elise has experience in organisational and policy change processes, including researching the roles of evidence in decision making in policy and practice. She also co-led a four-country research process about the roles and capacities of leaders in catalysing policy changes to address undernutrition.
Previous work has included participatory assessments of the multidimensional impacts of markets and market-based approaches, particularly in relation to food. She has researched and provided support for numerous 'Making Markets Work for the Poor' (M4P) and Inclusive Business initiatives. Elise established a successful social enterprise in Guatemala which has been running since 2006.
Elise has been working on issues related to development since 2002, in both a practical and academic capacity. Prior to joining IDS she worked internationally for 8 years with grassroots organisations, international NGOs and a social enterprise. While her currently work primarily focuses on the UK, she has worked in Kenya, Ethiopia, Uganda, South Sudan, Ghana, Myanmar (Burma), Indonesia, Bangladesh, India, Palestine, Haiti, Guatemala, El Salvador, Costa Rica, and Mexico.