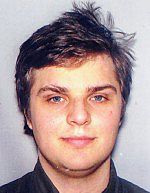 Mr
Peter Overbury
Biography
Role
PhD Student -Working with Luc Berthouze
office 168 chichester
Qualifications
MSc evolutionary and adaptive systems (EASy)-2014
BSc Neuroscience -2012
Awarded:
Pegge scholarship (2013) Awarded to the most promising student each year taking the EASy cores.
Junior Research Associate bursary (JRA) during the summer of 2011 one of only 22 students from all courses and years at the university are awarded this a year.

Lab Experience:
Unpaid Associate Researcher: Working with Dr Luc Berthouze on the use of genetic algorithms for generation of network with set levels of structural characteristics. Published 2015 and being presented at GECCO 2015 in Madrid.
Junior Research Associate scheme: During the summer I worked in the lab of Dr Guy Richardson on my own research of the expression of the outer hair cell motor protein prestin in mouse models of human hereditary deafness. I was fully responsible for the project and it has giving me valuable lab skills in florescent and confocal microscopy, quantitative immunoblotting, statistical analysis as well as dissection of mice.